Five Essential Capabilities of E-Grocery Fulfillment Software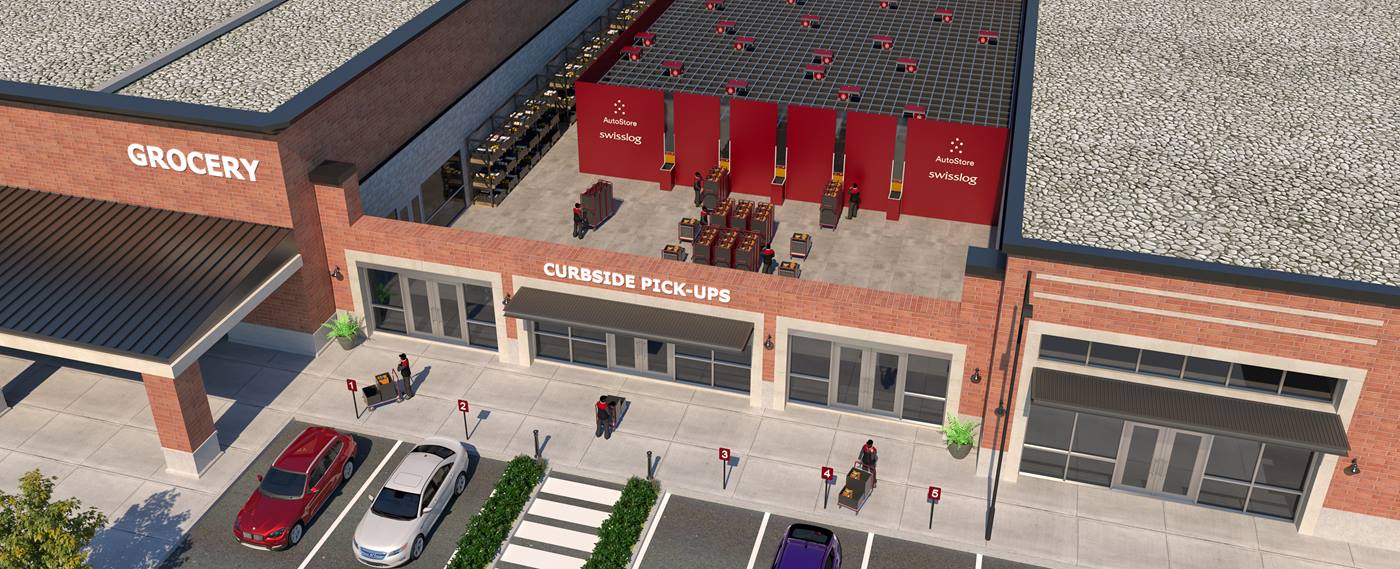 In a previous post, I shared how the global pandemic could increase the future demand for e-grocery services and has led to new advances in fulfillment automation, such as Swisslog's standardized Click&Pick® fulfillment solutions using AutoStore.
In this post, I want to focus on the "brains" behind e-grocery fulfillment—the automation control systems that play a critical role in the success of any automation project. As we've worked with grocery operators over the last several years to understand their unique issues, it's become clear that not all automation software can handle the complex requirements of e-grocery fulfillment. Here are five capabilities to look for when planning for e-grocery automation:
Sophisticated Inventory and Material Flow Management
First, automation control software must have the robust inventory management and material flow capabilities required to support e-grocery fulfillment. Pick-face inventory management should enable real-time inventory tracking and management of items by shelf life, expiration and "best-by" dates. Best practices include modified first expired, first out (FEFO) abilities. The software should also enable complete order tracking, including where picked by automated and non-automated picking processes, and support easy integration of essential equipment, such as weigh scales. As produce and temperature-controlled products are accommodated in automation without damage, traceability should be included in WMS/WES systems.



Seamless Synchronization of Automated and Manual Processes
While e-grocery presents fulfillment challenges in regard to the range of different types of products that must be assembled to complete an order, it's common within many warehouses to support automation systems with some degree of manual picking. Automation control software must be able to effectively synchronize and orchestrate the automated and manual processes required to fulfill orders.

A modular software platform, such as Swisslog's SynQ, provides application flexibility. It can be deployed as a single platform that encompasses WMS and warehouse execution system capabilities or the platform's warehouse execution system can be integrated with the existing WMS to ensure synchronization. When operating as a micro fulfillment center's WMS, SynQ provides single-system control and orchestration of all of the processes and systems within the fulfillment center, eliminating the need for additional software integration. When operating as a WES, SynQ manages all functions of ambient and chilled sub-systems to seamlessly integrate with a host software.


Productivity and Efficiency Features
Automating e-grocery fulfillment enables significant productivity improvements compared to picking products from store shelves and eliminates in-store picker congestion. However, specific software capabilities can further enhance the productivity benefits of the automation system by managing picked orders for future curbside pickup. The software should enable easy and efficient exception handling.

The design of the user interface can also impact productivity. The information presented to pickers should be simple, visual and intuitive to minimize training and maximize productivity. When interfaces are consistent across different processes, workers can move fluidly between automated and manual picking and be flexed to tasks to cope with the hour-to-hour fluctuations in the e-grocery business.



Advanced Business Intelligence
True data-driven management is one of the benefits of the move to automation—if your software includes the tools to support it. Look for 3D visualization capabilities that present a simple, holistic overview of the system at any point in time and business intelligence tools that provide a dashboard view of KPIs.



True Software Maturity
E-grocery automation is evolving so quickly we're seeing some vendors attempt to re-purpose outdated software to this application and others rushing to enter the market with underdeveloped or unproven software packages. Software that has been engineered to support today's data-driven and robotic automation systems, and continually enhanced with new capabilities based on user input, is best equipped to deliver the stability and functionality this application requires.

In addition, automation solutions providers that have established implementation and startup processes proven across multiple applications are better equipped to help grocers navigate the complexity of e-grocery fulfillment. Shortcuts within the implementation process can create long-term problems when they fail to consider all possible use cases and exceptions.
Software design, capabilities and maturity can have a major impact on the success of your automation strategy. Working with an experienced integrator with automation control integrated into the WMS platform, helps ensure e-grocery fulfillment automation is implemented in the most efficient manner possible and delivers the desired performance. For more information on e-grocery automation, read our new e-book, A Guide to E-Grocery Fulfillment Strategies and Technologies.