Swisslog delivers another AutoStore to Bring's major venture in Copenhagen
Gothenburg 2021-12-15 - In early 2021, Swisslog signed a framework agreement with Bring Parcels AB for the supply of warehouse automation for the logistics company's new fulfillment solution "Shelfless". A decision has now been made to build the fully automated fulfillment solution also in Køge outside Copenhagen.
December 16, 2021
It is now clear that Bring will build its third automated AutoStore facility, this time in Køge outside Copenhagen. The facility is expected to be completed in the first quarter of 2023. The service already operates in Oslo and a facility is under construction in Stockholm.
At our new fully automated warehouse, we will use an AutoStore solutions from our automation partner Swisslog. The majority of deliveries will be made by CO2-neutral vehicles, just a few hours after the customer has ordered their goods online. With this major Nordic venture, we will offer both faster and greener deliveries to end recipients," says Rickard Slettmyr, responsible for the establishment of Shelfless in the Nordic region.
The new fully automated warehousing solution will be the fourth of its kind to be established in the Nordic region in cooperation with Swisslog.
We are extremely proud and honoured to have been chosen as partner for Brings' offensive warehouse automation. It is a great trust we have received and we will do our utmost to meet Brings' high expectations, says Christian Walby, Sales Manager for AutoStore at Swisslog.
Swisslog's framework agreement with Bring extends over five years and means that Swisslog will supply all AutoStore solutions to Bring's Nordic facilities. Under the current framework agreement, the total number of projected bins for the next three years is approximately 500,000 to be installed in Bring's Nordic logistics facilities.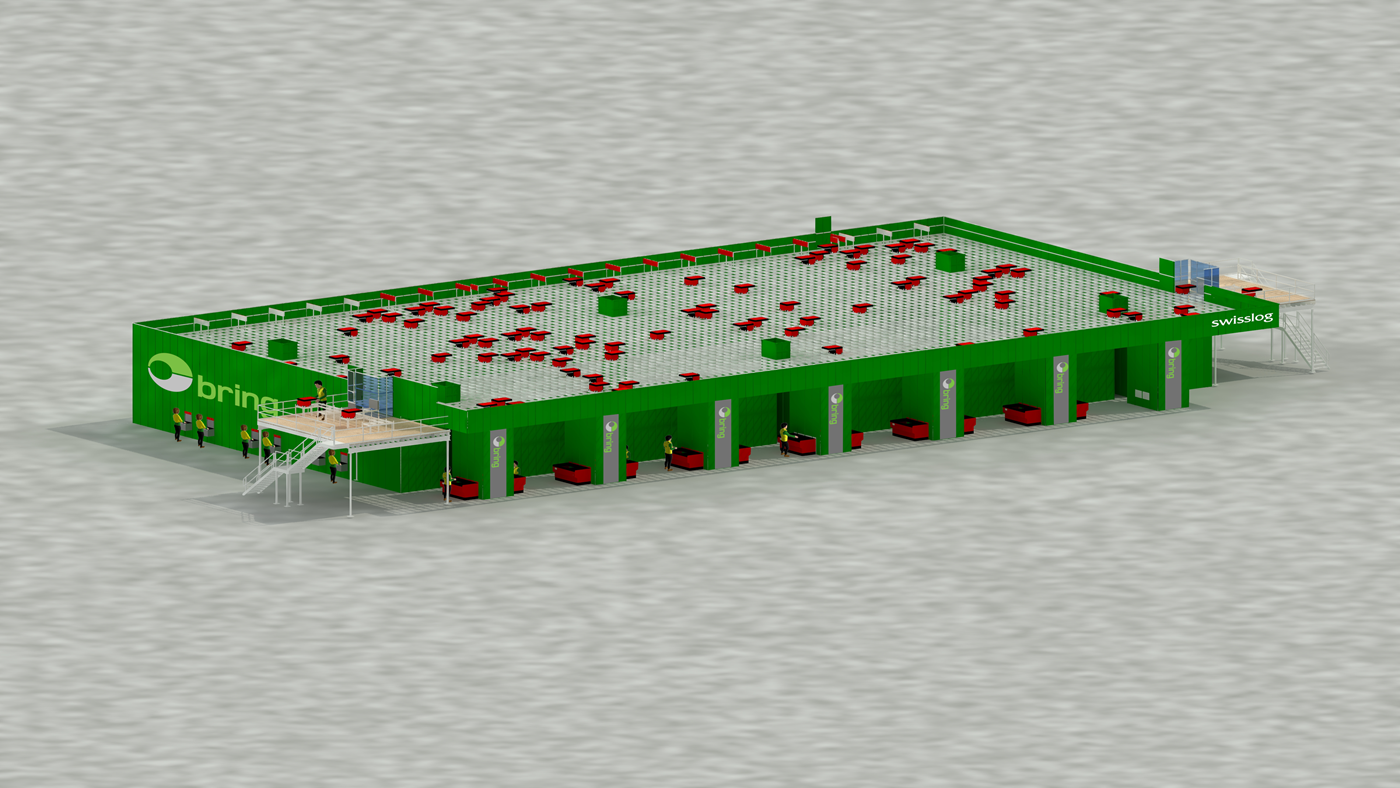 The delivery to Bring Shelfless Køge consists of an AutoStore with 48,000 bins, 70 R5-redline robots, 18 ports with pick-to-light technology and Swisslog's SynQ AutoStore Software.
About Swisslog
Swisslog delivers data-driven & robotic solutions for your logistics automation alongside reliable, modular service concepts. Collaborating with forward-thinking companies, we are committed to setting new standards in warehouse automation to provide future-proof products and solutions. As part of the KUKA Group, our customers trust the competence of our passionate employees – more than 14,000 people working across the globe.
About Bring
Bring provides everyday logistics solutions for small and large companies throughout the Nordic region. Bring handles parcels, couriers and goods - and can even help install the washing machine you ordered, or bring in the new sofa and take the old one with you. Bring is part of the Norway Post Group, the fourth largest postal and logistics operator in the Nordic region.