Evaluating Shuttles: The Best Applications and Essential Features
Shuttles have a number of strengths that make them ideal for a wide range of supply chain applications. Understanding these strengths can help ensure shuttles are used in the right applications and environments.
January 26, 2021
Companies who are seeking to automate the handling of cases and totes have a variety of options available to them today. A prime contender is the case-handling shuttle, particularly suited to today's demands for high performance. In the right application, shuttles such as the Swisslog CycloneCarrier, can deliver outstanding performance, density and reliability.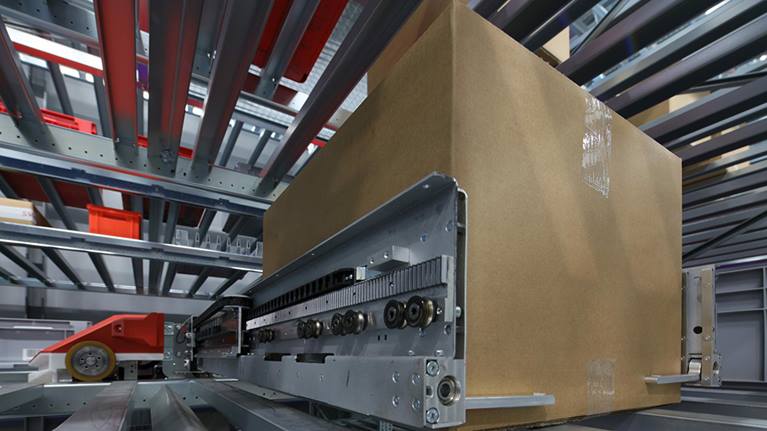 Choosing the Right Application for Shuttles
Shuttles have a number of strengths that make them ideal for a wide range of supply chain applications. Understanding these strengths can help ensure shuttles are used in the right applications and environments.
Throughput
Shuttles are known for their ability to support high throughputs. Features such as optimizing travel paths generates market-leading throughputs. Instantaneous throughput is important for peak periods, but sustained throughput is critical for operations departments to be able to rely on technology. CycloneCarrier's ability to adjust to misplaced totes and self-correct exception conditions provides higher throughput for longer periods of time.
Shuttles are sometimes compared to mini load cranes – for example Swisslog's Tornado – when evaluating options. In short, for the same number of cases or totes, both occupy roughly the same footprint but shuttles are much faster. Performance equates to cost, of course: some systems are made up of a combination of shuttles and miniloads to fit both budget and performance desires.
Case handling and item picking
Shuttles are extremely versatile as they can handle cases, cartons and totes – within the same system. Case/carton storage adds additional density as narrow cases can be stored close to each other, creating the ability to store more cases per linear foot. If your storage requirements include primarily cases or a mix of cases, cartons, trays and totes, a shuttle is often the best choice.
Cases and cartons can arrive at a warehouse all beaten up. Versatility is not much use unless the design of the shuttle enables it to accommodate variability without intervention. Swisslog's CycloneCarrier uses intelligent fingers and variable slides that allow the system to handle various widths and challenged cases, cartons and totes.
Total operating cost
Selecting the best shuttle is more than focusing on the best specifications. The operating cost over the life of the shuttle matters a lot to purchasing companies. What maintenance does it require? How many employees should be available, and what qualifications should they have? When doing maintenance, does the whole system need to be shut down? CycloneCarrier includes the ability for a single person to replace shuttles if needed, for the maintenance lift to raise or lower shuttles into place while the aisle is operational, and single maintenance-level shutdown on access. All contribute to lowering operational cost.
Balancing throughput with efficiency reduces long-term costs. Automated systems need to be able to keep up with or be ahead of peak demands, but during slower parts of the day (or year) don't need to operate at full speed. CycloneCarrier's dynamic performance management adjusts shuttle speed based on system demand, reducing wear-and-tear and energy consumption.
Storage density
Shuttles offer a blend of excellent storage density combined with selectivity – the ability to access any individual case or tote in a short amount of time. This combination can significantly expand the storage capacity and extend the life of existing warehouses. Because they are linear systems that utilize horizontal and vertical space in buildings better than other technologies, shuttles tend to work best in longer and/or taller spaces where their flexible height and depth can be maximized.
Cold storage
Shuttles are one of the few automated case handling systems that have proven reliability in cold storage environments: both chilled and frozen. CycloneCarrier's low temperature range – always good in chilled environments – has now been adapted to freezer applications as low as to -30°C / -22°F.
Shuttles are particularly well-suited for receiving and palletizing applications where buffering is required. In these applications, shuttle software offers the ability to release cases and totes based on different criteria. For example, the system should be able to collect and order all products associated with an order before sending the order to packing or collect enough product to fill a shipping unit (e.g., pallet) before presenting product to stacking/palletizing. Alternately, order release can be time-based, for truck routing purposes, etc.
Shuttles can also be configured with pick stations to support goods-to-person fulfillment, particularly where ceiling heights enable shuttles vertical density advantages. This makes shuttles ideal for omni-channel warehouse environments supporting store replenishment and direct-to-consumer fulfillment. They can be easily inserted into existing warehouses, which need to convert toward ecommerce growth and/or declining retail sales. Of course, shuttles are also often the right choice for frozen food distribution in case quantities.
No automation system is right for every application but shuttles such as CycloneCarrier can meet the needs of a wide range of applications. Choosing a shuttle system that delivers design flexibility, intelligent product handling, dynamic performance management and high availability ensures you get the most from your investment in shuttle technology.
Swisslog stands ready to help you match the right technology to your application and tailor an automation solution to the specific needs of your organization.