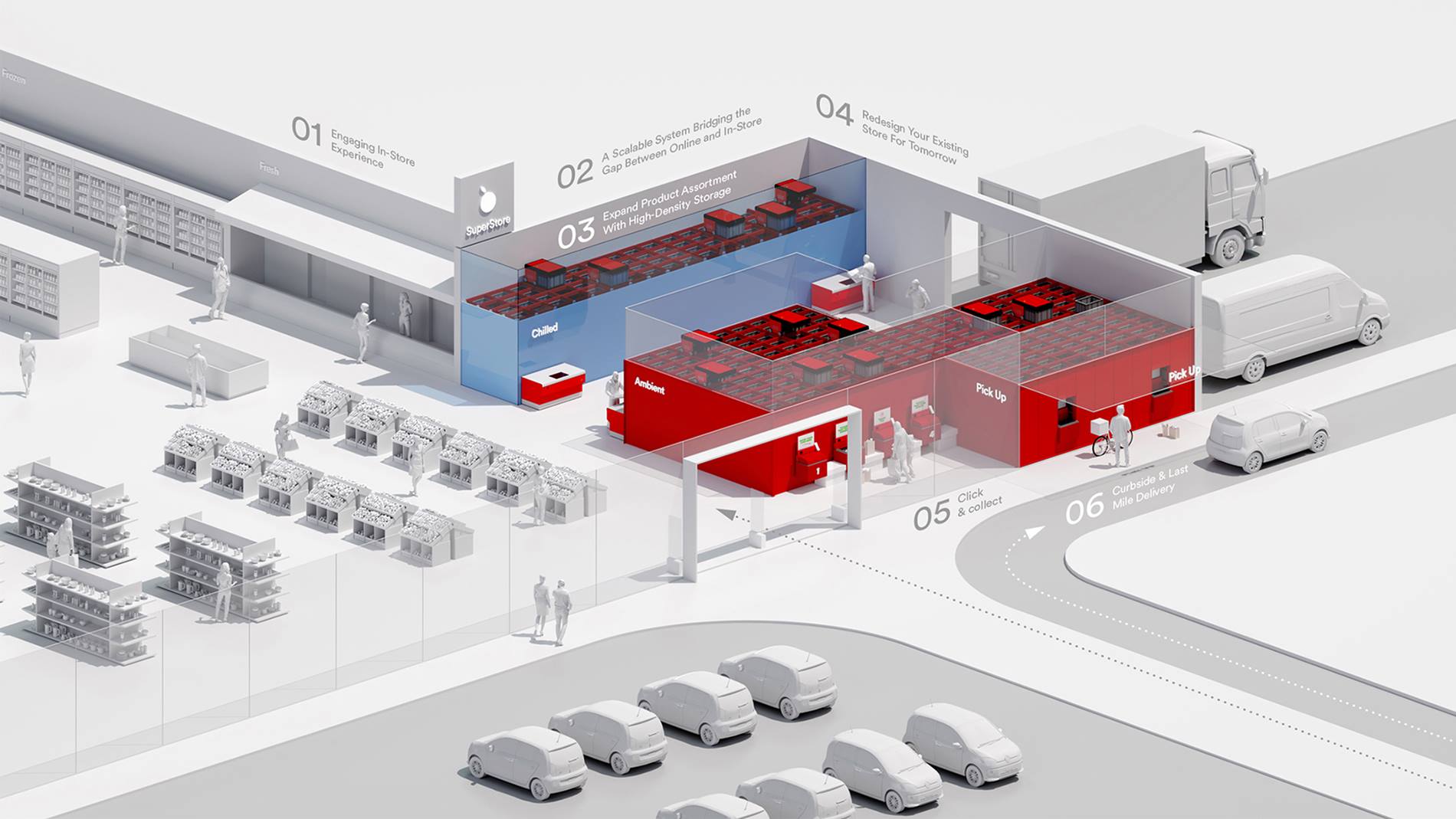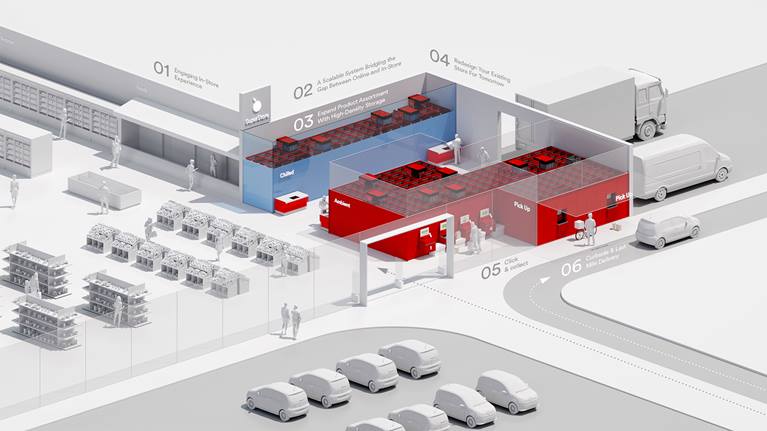 Accelerating the Deployment of E-Grocery Automation
Grocery executives have been forced to throw their previous e-grocery projections out the window.
April 30, 2020
The global pandemic has spiked demand in the short term and will likely create long-term changes in behavior that make the projections of even a few months ago obsolete. While it isn't possible to drop automation into fulfillment processes overnight to deal with the current spike, grocery chains can take steps today to prepare their organizations for a "new normal" post COVID-19 by leveraging the experience of early adopters and using standardized designs that streamline deployment.
Long-Term Behavior Changes
Prior to COVID-19, the demand for e-grocery services was already surging and many grocery chains were planning for or moving forward with automation. Then the virus spread across the globe and demand became overwhelming. A survey conducted at the end of March 2020 found that 65% of consumers had changed their grocery shopping behavior as a result of COVID-19.
Now, the billion-dollar question facing grocery operators is, what percent of those consumers will continue their current shopping patterns once the crisis passes?
While there may be no way to know that exactly, grocery executives and analysts alike expect behaviors among some consumers to be permanently altered. All of the projections are for long-lasting growth; the debate is how dramatically. As digital research firm eMarketer noted in its recent post, The Coronavirus will Cause a Lasting Effect on Grocery E-commerce, "E-commerce habits tend to form during periods of intense activity, and when those habits already have momentum, they become even stickier."
Or, as one grocery executive shared on a recent Progressive Grocer webcast: "What I have heard most from our new customers in the online space has been, 'I had no idea how easy this was. Why haven't I been doing this forever?'"
Automation plans made before the virus hit now have to be re-evaluated and accelerated. As one small grocery operator shared in a recent CNN article, "Before this Coronavirus hit, I was thinking if we weren't in online shopping in three years, it was going to be like selling VHS tapes during the DVD era. Today, if you don't get in online shopping in the next 12 weeks, I think this thing might leave you behind."
Balancing Urgency and Long-Term Performance
These anticipated behavioral changes have created increased urgency around the need for automation within many grocery operations. As we come out of the current crisis and consumers lose their tolerance for the extended delivery times that are now necessary, grocery operators need to be prepared with fulfillment processes that rely less on manual labor and close the gap between the profitability of online and in-store customers.
But the urgency grocery operators are now feeling can't compromise long-term performance of fulfillment operations. Choosing solutions simply because they offer the fastest deployment can result in systems that create as many problems as they solve.
Fortunately, we are at a stage in the evolution of e-grocery automation that we can effectively balance speed and performance. By building on the experience of early adopters and working with standard configurations of proven automation systems, Swisslog can offer best-in-class e-grocery automation with start-up times as fast as six months from contract approval.
Proven Technology for E-Grocery Fulfillment
At Swisslog, we hold the internal expertise and technology for both
shuttle
and
AutoStore
systems. This enabled us to perform an extensive non-biased study utilizing both technologies. This study with industry-based data and customer input resulted in the finding that AutoStore is the better choice for e-grocery fulfillment. Its combination of density, reliability and flexibility makes it superior to shuttles in e-grocery applications.
Offering unparalleled storage density, AutoStore also has low maintenance requirements and high availability. Any robot can retrieve products from anywhere in the system. That means all products can be retrieved even if a robot has to be taken offline for maintenance. In addition, fast-moving products naturally migrate to the top of the grid to enhance retrieval times.
With AutoStore's modular design it can scale up to work for large hub-and-spoke distribution strategies or down to support smaller in-store micro fulfillment centers. And, you're never locked into your initial configuration. You can add storage to support more SKUs, space permitting, or more robots to increase throughput while continuing to fulfill orders—the ultimate in flexibility.
We are working with major grocery chains to configure and deploy AutoStore and have successfully configured more than 170 AutoStore systems across various industries. Through that experience, we've developed three standard AutoStore configurations that will meet the needs of many grocery chains regardless of the business model.
The Power of Standardized Designs
The typical AutoStore configuration process involves deep analysis of a year or more of data including picking transactions, inventory, product dimensions and site characteristics. This analysis allows the AutoStore system to be precisely matched to the application and helps ensure a smooth startup, but it does add time to the process.
In grocery applications, where operators have similar product offerings, the configuration process can be streamlined and simplified through the use of standardized AutoStore configurations sized for the most common fulfillment scenarios.
E-Grocery Click&Pick® Micro: This AutoStore configuration consists of a 5,000 ft2 (465m2) ambient storage module and a 2,500 ft2 (230m2) chilled module with operations across the two modules managed and orchestrated by Swisslog's SynQ software. This configuration is ideal for in-store or bolt-on micro fulfillment centers. The ambient unit supports approximately 9,000 SKUs while the chilled unit supports an additional 3,000 SKUs.
E-Grocery Click&Pick® Micro Plus: This AutoStore configuration includes a 7,000 ft2 (650m2), 14,500 SKU ambient storage unit and a 4,000 ft2 (370m2) 4,000 SKU chilled module with management and orchestration by the SynQ software. This configuration can meet the requirements of in-store, bolt-on, hub-and-spoke and centralized fulfillment centers.
E-Grocery Click&Pick® Micro XL: This AutoStore configuration consists of a 12,500 ft2 (1,160m2), 21,500 SKU ambient storage unit with a 4,000 ft2 (370m2), 4,000 SKU chilled storage unit with management and orchestration by SynQ. This configuration is suitable for bolt-on, hub-and-spoke and centralized fulfillment centers.
Software That Works
One of the challenges some early adopters faced when implementing automation was software that wasn't tailored to the unique requirements of e-grocery fulfillment. Insufficient integration with order management software created challenges synchronizing manual and automated picking and limited functionality made it difficult to deal with normal grocery practices, such as selling by weight instead of piece.
With Swisslog's standardized AutoStore configurations you get our proven
SynQ WMS/WES
and automation control software that has been customized for
e-grocery applications.
Our control software is integrated into our WMS/WES to enable enhanced order management and synchronization of automated and manual picking. It also offers an intuitive user interface, local inventory management and grocery-specific material flow strategies that optimize system performance.
A Clear Path Forward
This is a difficult time for grocery chains to be planning for the future. Not only is demand unpredictable, but resources are consumed meeting current demand and putting processes in place to protect in-store workers and customers.
However, when the current spike starts to subside and consumers again expect same-day or next-day fulfillment, there will be immediate need for automated fulfillment processes. If you wait until then to move forward, you'll be facing at least another six months before system start up.
Through our standardized AutoStore designs and extensive automation experience, we've made it as easy as possible to get reliable, scalable, flexible automation ready for when we emerge from the current crisis. For more information on Swisslog's standard AutoStore configurations for e-grocery fulfillment,
contact us today
.