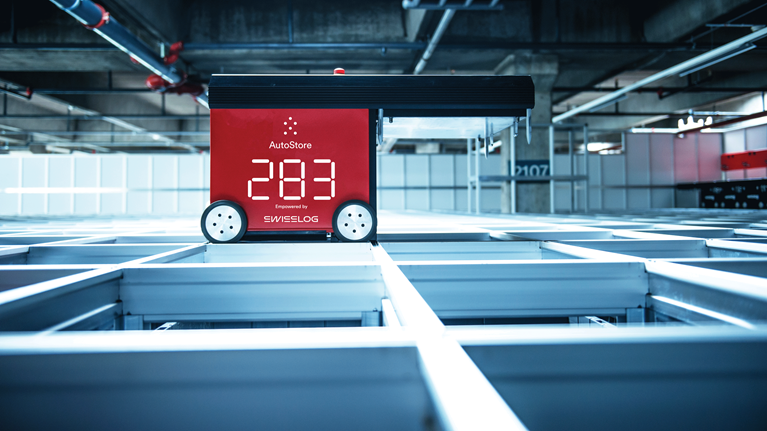 The Role of Software in Optimizing AutoStore Performance
January 25, 2019
The AutoStore automated storage and retrieval system has emerged as a highly effective solution for warehouses that need to maximize storage density and accelerate pick speeds. It delivers extremely dense storage, improves productivity by supporting goods-to-person (or robot) picking, and delivers outstanding flexibility through its modular architecture.
But not every AutoStore user gets the same value out of their system. The software that controls AutoStore makes a difference. Here are six ways the right software can help you get the most out of AutoStore.
Extensibility:
Most AutoStore control software operates as a stand-alone system outside the primary WMS. This can limit the ability to fully integrate AutoStore with other warehouse systems and processes and force operators to continually adapt to different user interfaces depending on what system they are supporting. By contrast, the AutoStore Director in the SynQ WMS functions as a module within the SynQ platform. This provides the flexibility to implement the module as a standalone control system that integrates with an existing WMS or to use SynQ as the primary WMS with AutoStore Director operating within the larger platform. The latter option is often the best for applications where AutoStore is supporting other warehouse processes as it creates tighter integration across those processes, eliminates the need to integrate various warehouse software platforms and ensures end-to-end product visibility.
Versatility:
Different AutoStore applications require different workstation configurations and not all AutoStore software is versatile enough to accommodate special business for pick-and-pass, pick-and-pack or all-in-one. The architecture of SynQ allows for a multitude of workstation setups as well as the ability to connect conveyor systems to AutoStore to move products downstream for picking, packing and shipping. SynQ also provides the versatility for an operator to change the bin layout or for example, switch between picking, put-away or cycle counting on the fly. In addition, Swisslog has the expertise in house to extend AutoStore Director further, whenever required by your business.
Manageability:
Warehouse control software can play a key role in AutoStore management. For example, SynQ offers a 3D Visualizer for AutoStore that provides an overview of the system at any point in time. SynQ also makes it easy to add business intelligence tools, such as Cockpit Manager, which provides a dashboard view of KPIs, and Availability Manager, which monitors system health.
Performance Optimization:
Optimizing the performance of AutoStore requires the ability to balance loads across workstations to maximize picks per workstation and overall system throughput. SynQ includes smart algorithms and strategies, honed over more than 130 AutoStore implementations, to intelligently orchestrate bin delivery to balance capacity and support just-in-time picking for operators picking multiple orders.
Usability:
Operators should receive exactly the information they need to pick accurately and quickly and nothing more. And, when operator interfaces are standardized across various warehouse systems training requirements are reduced, workforce flexibility increases, and operator efficiency is improved. Because the SynQ platform supports multiple warehouse control modules, it enables the use of a universal user interface across the warehouse. Swisslog's experience supporting AutoStore has also resulted in optimized AutoStore user interfaces that deliver exactly what operators need to pick quickly and accurately.
Support for Emerging Technologies:
Item-picking robots represent an important part of the future of AutoStore. However, integrating robotic picking into an AutoStore system presents challenges from a software perspective. Processes such as cubing, order allocation, workload balancing and exception handling all need to be updated to leverage this technology. The SynQ AutoStore Director module is the first AutoStore control software to integrate robot item picking capabilities.


AutoStore continues to gain traction in the market by delivering high-density storage, outstanding application flexibility and unrivaled reliability. But experience matters, both in how the system is configured and in the maturity of the software that controls it. For more information, read the Swisslog white paper, Optimizing the Configuration and Performance of the AutoStore Goods-to-Person Storage System.