Swisslog named MHE Supplier of the Year at Logistics Middle East Awards
Company recognized for its complete solutions from consulting and concept studies, to project implementation, customer service, best-in-class technologies and software.
Dubai, UAE, 24th April 2019 - Swisslog, a global leader in robotic, data-driven and flexible automated solutions announced that it has been honoured for its innovative solutions in the materials handling sector with the prestigious Material Handling (MHE) Supplier of the Year Award by Logistics Middle East.
Commenting on the win Alain Kaddoum, General Manager for Swisslog Middle East said, "We are extremely honoured to be named MHE Supplier of the Year at the Logistics ME awards. This award is a testament to our relentless focus on quality and practicality. At Swisslog, we are dedicated to finding a customized solution to improve our customers' operations and help them future-proof their business. Drawing on our 100-year heritage of innovation and creativity, we are committed to providing companies with options that meet all levels of automation and storage handling needs."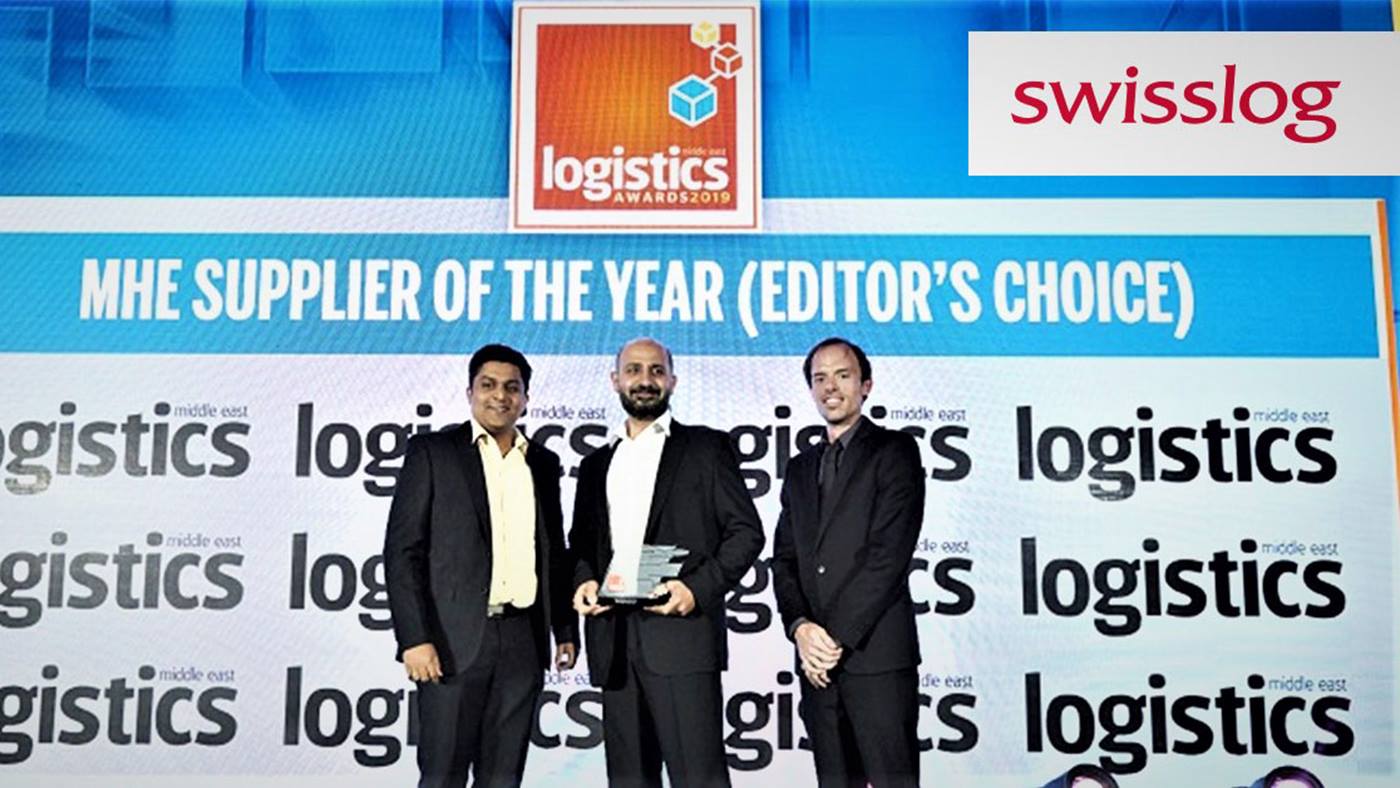 The Logistics Middle East Awards are a celebration of excellence for the great and the good of the supply chain and logistics communities in the Middle East. The 2019 awards focused on companies and individuals working for logistics and transport companies in the Middle East and highlighted industry players that have contributed the most towards the success of the logistics sector in what has been a challenging year.
Swisslog has a proven track record of working with brands across various verticals, including Almarai, Mai Dubai, Central Bank of Kuwait and Axiom Telecom regionally and PepsiCo, Coca-Cola, Roche, Target, Fossil, ASDA and Wal-Mart globally. Its MHE solutions are manufactured using a stringent design and testing process and the company has an entire Research and Development department committed to ensuring solutions meet market requirements.
The company employs more than 2,900 people worldwide. Since its inception in the region, the Middle East team has grown steadily in size year-on-year and plays a critical role in supporting Swisslog's continual growth strategy and in driving its leadership position in automated intralogistics solutions throughout the region.
- END –

About Swisslog

Headquartered in Switzerland and present with a local office in Dubai, Swisslog is a subsidiary of the German robots manufacturer KUKA and is organised in two divisions: Logistics Automation and Healthcare.
Swisslog Logistics Automation is shaping the future of logistics automation and transforming warehouses and distribution centres to achieve maximum efficiency, flexibility and agility. Our Industry 4.0 and robotics innovation means our automation solutions are always future-ready. By understanding and analysing your data, we optimise the performance of your operation. Our complete solutions include consulting, concept studies, project implementation, customer service, best-in-class technologies and software, all tailored to the specific requirements of your business. Our portfolio consists of different key technologies, such as conveyor systems, ASRS, AGVs, shuttle systems, monorails, robotics and warehouse management software. Customers relying on Swisslog's experience include Central Bank of Kuwait, Almarai, Mai Dubai, Axiom Telecom, PepsiCo, Coca-Cola, Roche, Target, Fossil, ASDA and Wal-Mart.
Read more about the awards on LogisticsMiddleEast.com