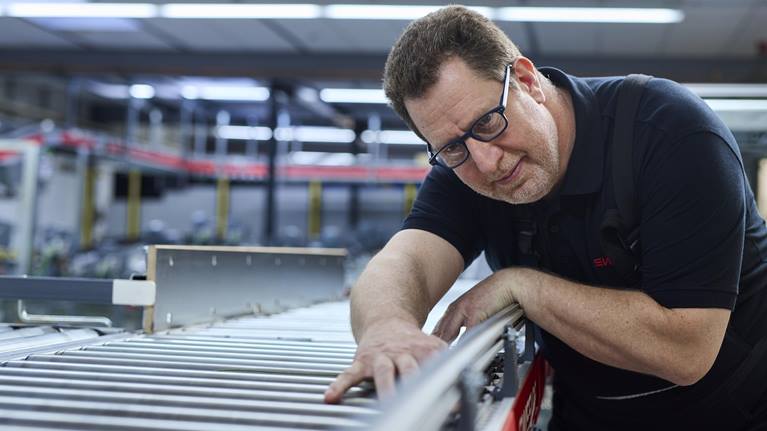 Field Service Project Supervisor
September 29, 2020
CS Field Service Project Supervisor is responsible for overseeing the projects awarded to the CS Services Group by CS Sales team.

The CS Field Service Project Supervisor will carry out the duties described in this document while ensuring that he/she and the team under him/her drive value, standardization, cost effectiveness and supportability of the systems and solutions Swisslog WDS Americas provided to its customers, creating a world-class organization with value generating products and services.

Short Facts
Newport News, VA, USA

Installation / Maintenance / Repair

Regular/ Permanent/ Full-time
Make an impact
Results Orientation
Lead your team to deliver each and every CS project:
Following the Swisslog process landscape
On schedule
Within budget
With high quality
Set the benchmark for your project team and peers to aspire to:
Have a high sense of urgency, take initiative and responsibility for actions required in solving problems
Deliver high-quality, timely and cost-effective results

Technical/Commercial Knowledge
By direct or indirect means, ensure your project team(s) have the necessary tools, knowledge and expertise to manage the following aspects of their projects:
Project execution tools
Project requirements
Swisslog Material Handling Equipment operation and capability
Equipment Mechanical and Electrical design, hardware and installation
PLC/Controls, hardware and communication
Customer Focus
Anticipate, be accountable for and deliver on internal and external customer commitments
Ensure both you and your project team(s) understand and fulfil customer requirements
Build a network of good working relationships with your project team(s), internal and external customers
Analytical Thinking and Decision Making
Make well-informed, effective and timely decisions with due diligence and consideration of the risks involved
Formulate objectives, plans and priorities for yourself and your project team(s), taking into consideration project team, department, organizational and customer needs

Leadership
Organize your area of responsibility. Delegate tasks, responsibilities and authority congruently, and deploy available resources appropriately
Serve as a role model to your peers and project team(s), ensuring best practices are adopted in all aspects of your team's work

Flexibility
Work outside of regular office hours or away from home where necessary
Be open to change, receptive to new ideas and readily adapt to changing circumstances, new requirements or unexpected issues
Demonstrate initiative to seek out and execute tasks which will contribute to project and customer success

Team Work
Integrate into the Services team
Establish effective working relationships across teams, departments and business units
Work collaboratively with others and avoid silo thinking

Communication
Communicate openly and effectively with team members, peers, management and stakeholders from all levels
Communicate openly and effectively with our customer in a professional and courteous manner
Ensure that information is passed onto those who should be kept informed
Travel
On average 10%, but at peaks travel can reach 30%, depending on project needs
Ability to travel on domestic assignments with flexibility to stay up to 2-3 weeks at a time. Some international travel may be required as well.
Bring to the team
Competence
Effectively applies technical skills and professional, industry and company knowledge
Continuously develops his/her skills and knowledge
Analyzes data and information to develop solutions
Develops practical solutions according to customer needs
Adapts to new and changing demands
Continuously seeks improvements
Have good knowledge and understanding of the role of information technology and its interrelationship with other engineering and business disciplines
Clarity
Communicates openly and effectively with all stakeholders
Deals effectively with people from all levelsExcellent written and oral communication skills
Our promise
Swisslog provides you with the possibility to grow while working with us to deliver a game changing mission: to shape the future of intralogistics by introducing an era of robotic and data-driven automated solutions that create exceptional customer value. We are proud of our Swiss roots, while the opportunities we offer stretch across the globe. We don't expect perfection, but we do expect Collaboration, Commitment, Clarity, and Competence (our Core Values) from all our colleagues. In return, we offer you the chance to be part of the driving force behind solutions that are shaping the future, while we develop the leaders that will shape ours.
Great Team Spirit
About Swisslog
Swisslog is shaping the #future of #intralogistics. As part of the KUKA Group, we are at the forefront of technology that is changing the world. Serving some of the biggest and most exciting brands across the globe, we're a team of 2,000 professionals and 50 nationalities, working together to transform intralogistics with smart minds and fresh perspectives. With our flexible, #robotic and #data-driven automated solutions, we are powering the supply chain and taking the industry forward. #JoinOurTeam and bring ideas to life!