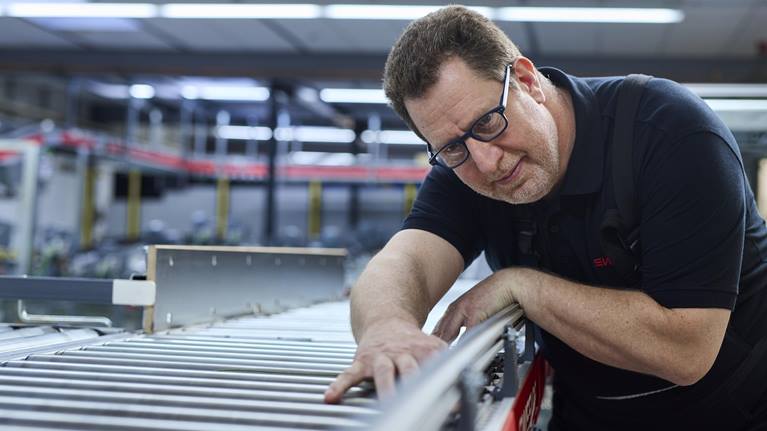 Järjestelmän laitehuoltaja
Kerava, Uusimaa
07 November 2023
Etsitkö uusia jännittäviä haasteita – sellaisia, jossa voit todella vaikuttaa? Onko teknologia intohimosi ja haluat jakaa osaamistasi kansainvälisesti? Astu eteenpäin ja löydä Swisslog! Kun työskentelet osana #Engineering -tiimiämme loistavalla tiimihengellä, käytät teknologian voimaa intralogistiikan tulevaisuuden muokkaamiseen mahtaville asiakkaillemme. Tarjoamme lahjakkaalle tekijälle mahdollisuuden liittyä uskomattomaan tiimiimme ja saada kaikki irti heidän potentiaalistaan – voisitko olla se sinä?
Short Facts
Kerava, Finland

Customer Service

Permanent Position
Make an impact
Järjestelmän laitehuoltaja, Kerava, Uusimaa. Työskentely maanantaista perjantaihin vuoroviikoin aamuisin ja iltaisin (klo 6-14 / 14-22).


Työnkuvaus – järjestelmien käyttöinsinööri

• Tämä on asiakaspalvelu rooli, jossa toimit Swisslogin edustajana Bromanille paikan päällä.
• Osallistut erilaisten automatisoitujen laitteiden vikojen sekä ennakoivien huoltotöiden käsittelyyn, mukaan lukien lavajärjestelmät, lavakuljettimet, monorail, kevyt-tavara järjestelmä, cyclone-järjestelmä, kuljettimet ja keräilyjärjestelmä.
• Yhteistyö ulkoisten ja sisäisten toimittajien kanssa, asennusten tehokkuuden ja luotettavuuden parantamiseksi.
• Huoltojärjestelmän käyttö varaosien tilaamiseen ja hallinnointiin.
• Bromanilla olevien terveys-, ympäristö- ja turvallisuusmääräysten noudattaminen.
• Laitteiden valvonta integroidun tietojärjestelmän avulla.
• Proaktiivinen työskentely tuotannon pysähdyksien minimoimiseksi.

Bring to the team
Mitä edellytämme - Järjestelmän laitehuoltaja

• Tarvitset mekaniikka-, sähkö- tai automaatioalan ammattitutkinnon.
• Kokemus tuotantolaitoksesta tai automatisoiduista järjestelmistä huoltoinsinöörinä/huoltoteknikon tehtävistä.
• Laaja kokemus elektroniikasta, ohjausjärjestelmistä, mekaniikasta ja pneumatiikasta sekä kyky PLC-ohjattujen laitteiden vianmääritykseen.
• Yleinen kokemus mekaniikasta.
• Kokemus raportoinnista ja dokumentoinnista.
• Mittauslaitteiden käyttötaito.
• Hyvä fyysinen kunto ja kyky korkealla työskentelyyn.
• Hyvä Englannin kielen taito - kirjallinen ja suullinen.
Suomen kielen taito - kirjallinen ja suullinen
Our promise
Swisslog provides you with the possibility to grow while working with us to deliver a game changing mission: to shape the future of intralogistics by introducing an era of robotic and data-driven automated solutions that create exceptional customer value. We are proud of our Swiss roots, while the opportunities we offer stretch across the globe. We don't expect perfection, but we do expect Collaboration, Commitment, Clarity, and Competence (our Core Values) from all our colleagues. In return, we offer you the chance to be part of the driving force behind solutions that are shaping the future, while we develop the leaders that will shape ours.
Onboarding
Great Team Spirit
Modern Work Environment
Global Opportunities
About Swisslog
Swisslog is shaping the #future of #intralogistics. As part of the KUKA Group, we are at the forefront of technology that is changing the world. Serving some of the biggest and most exciting brands across the globe, we're a team of 2,000 professionals and 50 nationalities, working together to transform intralogistics with smart minds and fresh perspectives. With our flexible, #robotic and #data-driven automated solutions, we are powering the supply chain and taking the industry forward. #JoinOurTeam and bring ideas to life!
Swisslog on osa globaalia organisaatiota, joka pyrkii tarjoamaan mahdollisuuksia, terveellistä työ- ja perhe-elämää tasapainottavaa sekä monenlaista sosiaalista toimintaa.
Muutamia etuja, joita tiimilaiset saavat:
Mahtava työympäristö
Työskentely edistyneen teknologian kanssa
Kannustus uusiin ideoihin ja innovaatioihin
Tulevaisuuteen suuntautuneita projekteja johtavien merkkien kanssa
Käden- ja omien taitojen kehittäminen

#LI-LP1