Automated guided vehicles AGV: The mobile solution of the future
Swisslog has been implementing customized AGV solutions for more than 45 years. Automated guided vehicles are significantly more flexible than fixed installations, and are also demonstrably lower cost above a certain layout size.
AGV: The flexible alternative to fixed installations
Working with our AGV suppliers, we find the best automated guided vehicle solutions for your enterprise, whether it is a standard forklift, a side forklift, a counterbalanced forklift, or a straddle AGV. We implement all types of vehicle, whether using a conveyor table or a platform vehicle. We can also integrate different types of AGV into the same layout.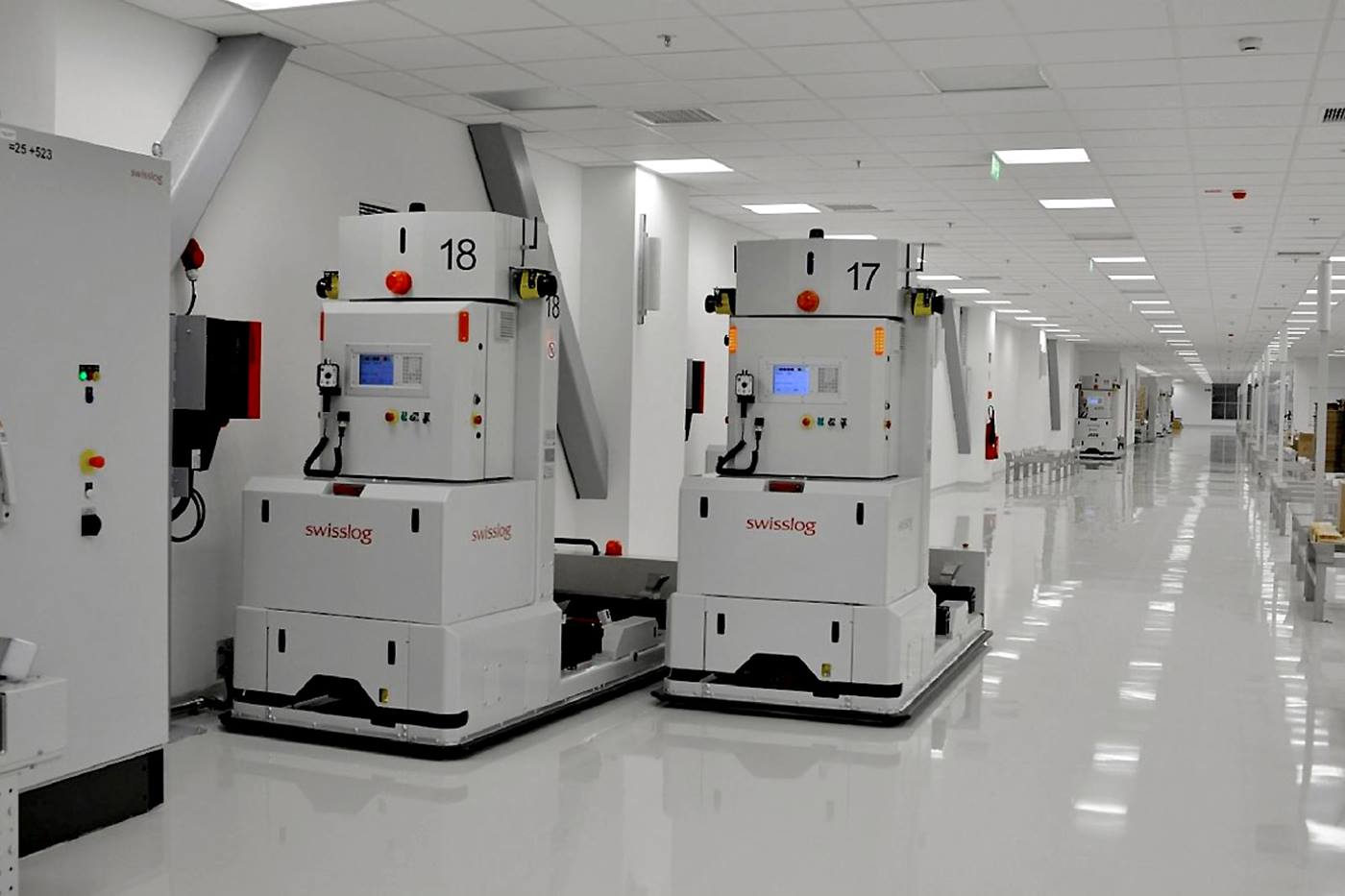 Solutions designs for Automated Guided Vehicles
The following factors are considered when designing an AGV solution:
Material flow
Size of layout
Spatial requirements in the layout
Vehicle speed
Charging cycles
Door with transfer to AGV

Interface to high bay warehouse with AGV

3 loading stations for automated guided vehicles

AGV driveways

Production line 1 with pallet wrapper and AGV pick-up

Production line 2 with AGV drop-off

Goods loading station for shipping

Goods receiving with pallet placement on conveyor
Automated guided vehicles (AGV): What are they?
Set up and function
An automated guided vehicle (AGV) system transports various goods via computer-driven vehicles from a pick location to a drop location. The fleet manager distributes single transport orders to the vehicles. The shortest path to the destination is then calculated by the fleet manager. The AGV is a people-safe unit and is equipped with different safety components such as safety scanners, rubber bumpers and emergency stop buttons. Communication between vehicles and the fleet manager is done via Wi-Fi.
An AGV system comprises the following components:
One or more vehicles with forks, platform or conveyor loading options to transport pallets, racks or containers.
Layout on which the vehicles move, including pick and drop stations
A fleet manager that distributes the transport orders to the vehicles and defines the route for vehicles
Interface to doors, elevators, conveyors via I/O signals
Interface to SynQ WCS or other host system that generates transport orders
Advantages
An AGV system is an efficient and flexible transport solution with many advantages:
Automated guided vehicles are widely used in several business sectors including: Industry, Pharma, Hospital, Food & Beverage, Retail, and E-Commerce

Efficient solution for transports from A to B, with or without warehouse manager

Ideal for mid-range to large distances up to medium material flows
High redundancy when having several vehicles
No fixed installations necessary in the layout
Readily extendible at any time
Guaranteed flow through times for material flow
Reduction in staff
High reliability and availability
High return on investment (ROI), especially for 3-shift operation
Facts & figures
Models: forklifts, counterbalanced forklifts, side forklifts, straddle, very narrow aisle, conveyor AGVs, platform AGVs
Speed: up to 1.7 m/s
Load weight: standard forklift up to 2,500 kg, customized AGVs up to 10,000 kg
Maximum rack height: 8 – 10 m
Charging strategies: automated charging "Opportunity Charging", manual battery exchange
Batteries: lead - batteries, NiCd - batteries, Lithium-Ion-batteries
Application: Indoor
Temperature: +5°C – 35°C, higher or lower temperatures need to be clarified
Time from order to go-live: 6 - 10 months
Automated Guided Vehicles as mobile solution
We design your AGV system together with you. For this, the material flow, the size of the layout, the shift-model, and local conditions like slopes, bottlenecks, one-way-paths and a fire protection concept play an essential role.
We integrate our solution into your logistics landscape.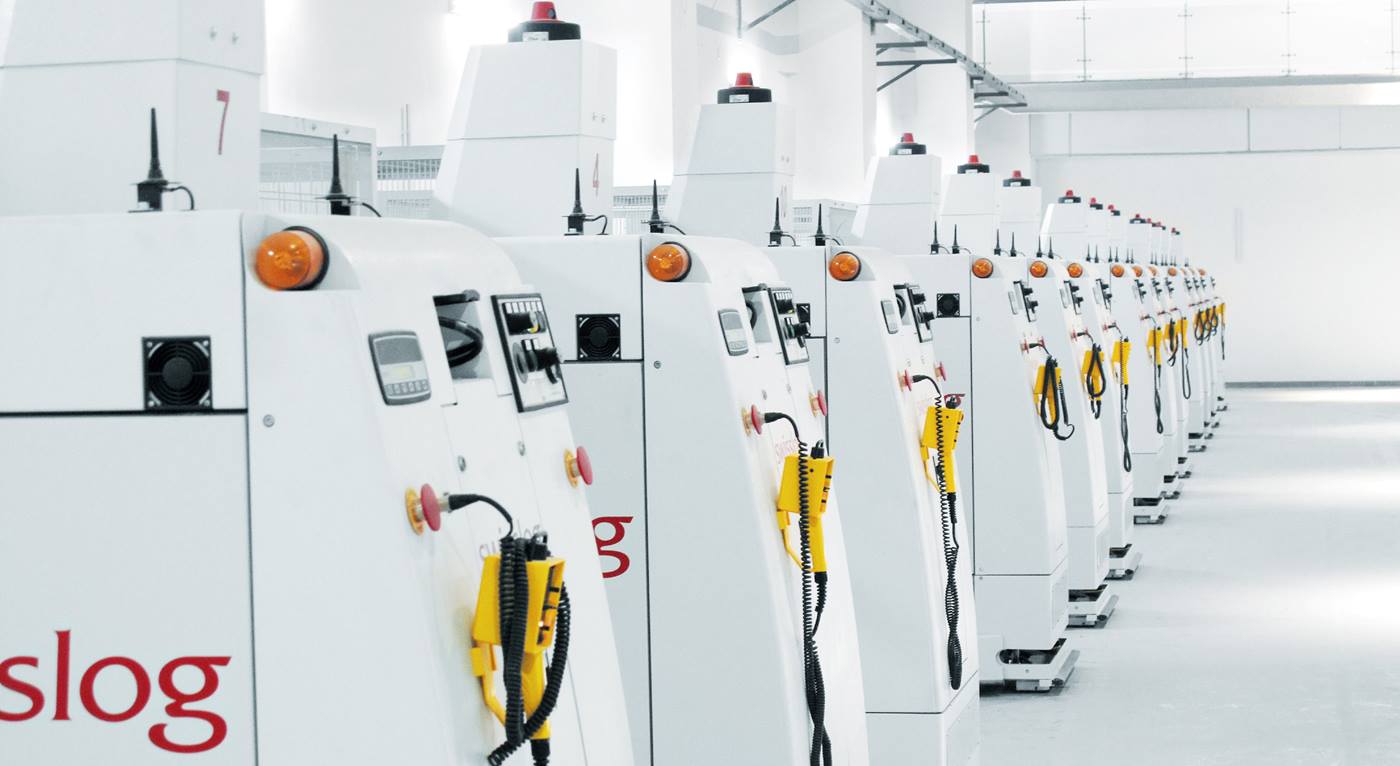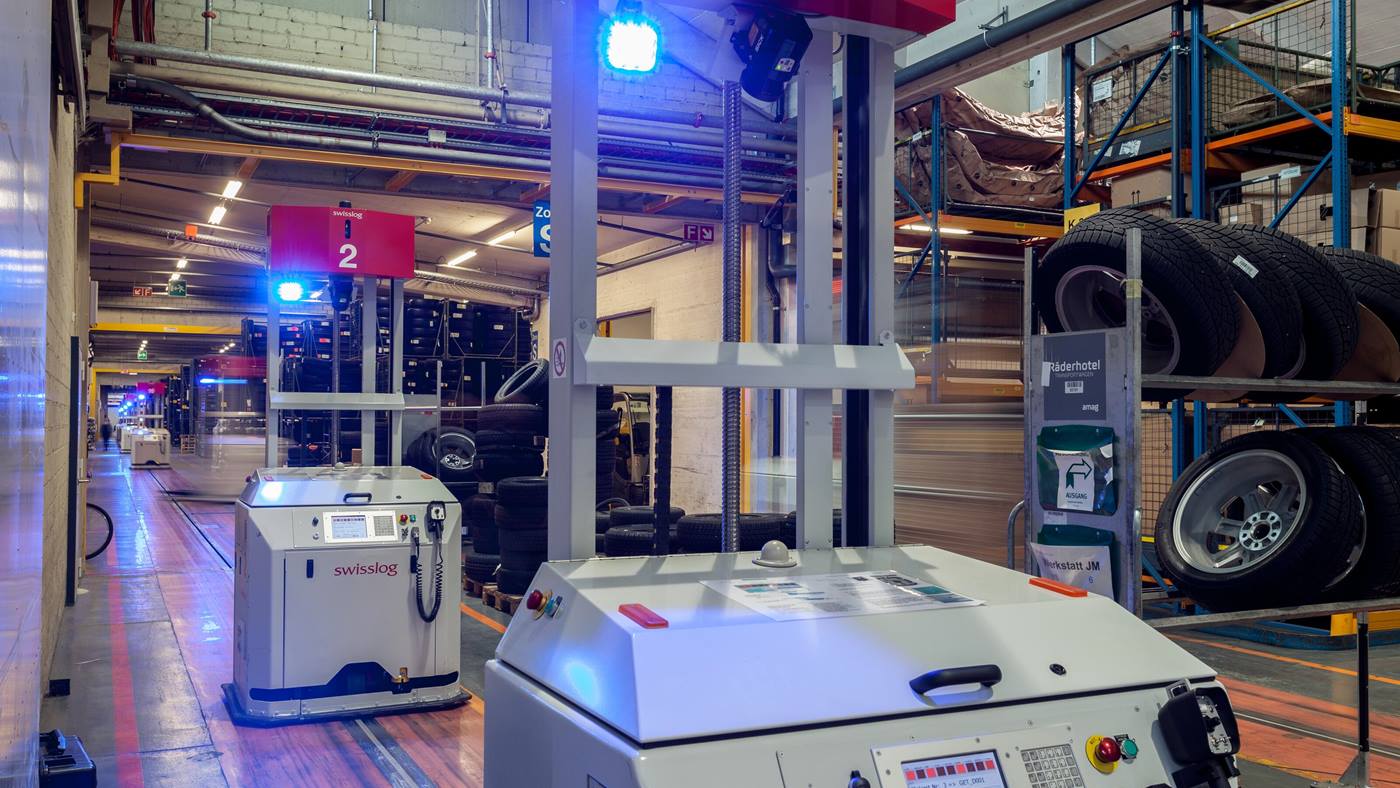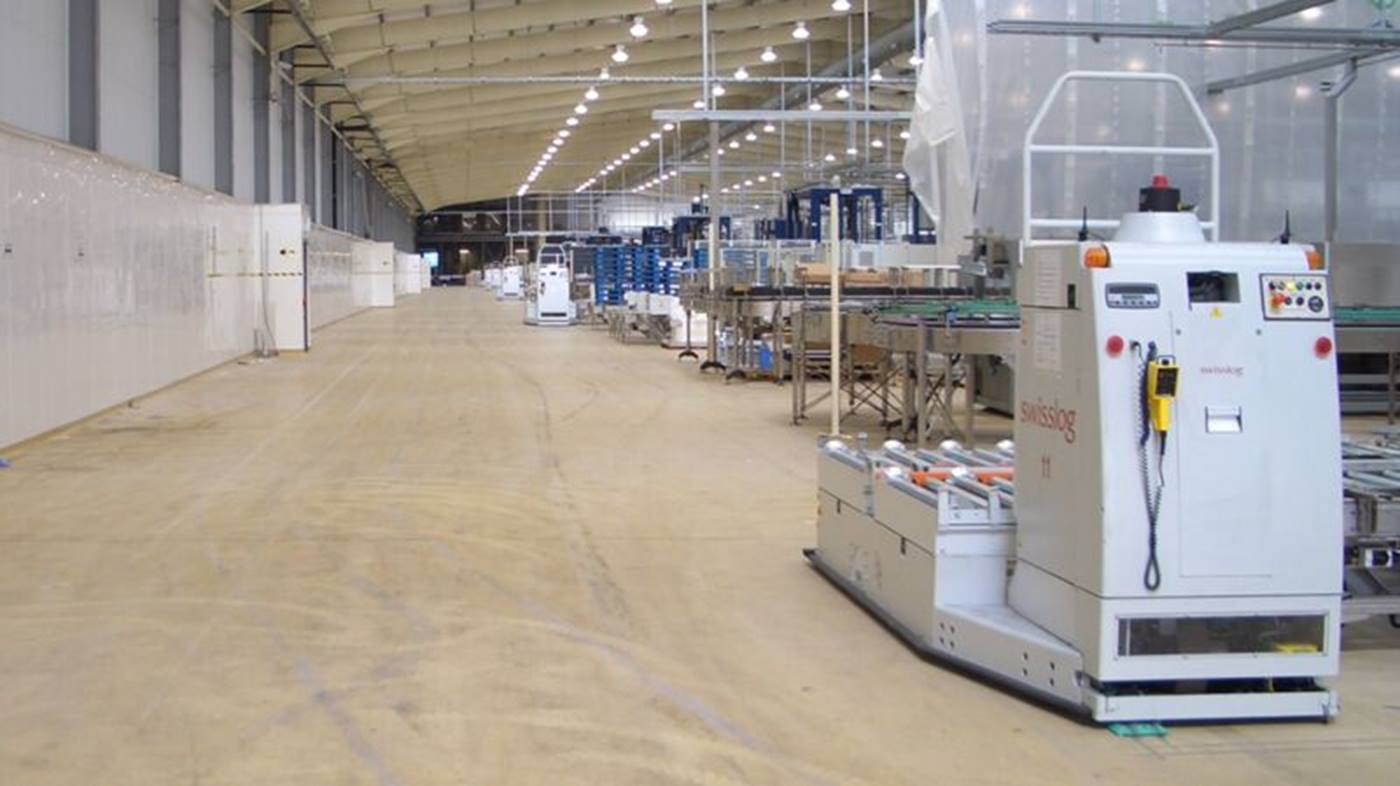 Imagine if you could increase throughput and stay flexible? That's exactly what AMAG did!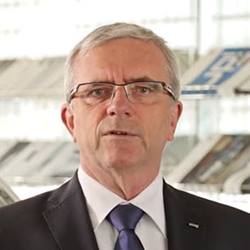 Together with Swisslog we created a distribution center that is perfectly equipped for future challenges. We can handle order throughput times of only 1 hour even with higher volumes
AGV real time visualization with technology partner
Our longstanding partnership with technology partner Kollmorgen is key to our success in the AGV sector. Kollmorgen offers guaranteed spare parts availability for all the most important components as well as useful tools for diagnosis and analysis. We can quickly detect any irregularities in the system to ensure optimized operation.
Cway realtime visualization gives you complete control over the system at any time; you can see the position and the status of every vehicle. An event log records all transports and load exchanges. With CWay you have the option to create different users and user groups and to grant access to the system according to authority level.
---