How Automation is Enabling Customer Excellence for Omnichannel Grocers
In this article, you'll learn about the connection between automation and customer excellence, and the path toward success.
Consulting firm McKinsey recently published an article, titled
State of Grocery in North America 2023
, which integrates findings from their consumer and grocery CEO surveys to inform strategies that can help grocers improve their competitive position in the current environment. The whole article is worth a read, but a couple of quotes in particular caught my attention:
"Despite their weariness, CEOs should be prepared to act aggressively. As we have discussed in years past, the best-performing grocery retailers are those that consistently focus on innovation and pursue new ways to create value."
"Consumers have come to expect a consistent, seamless, personalized experience across the entire journey, making omnichannel no longer a "nice to have" but a critical offering."
In Related News. . .
A couple of weeks before that article was published, H-E-B announced
the successful opening of a 100,000 square foot e-grocery fulfillment center
near Houston, Texas. Two years ago, an announcement like that would have been huge news in the industry, but this one received modest attention outside the Texas market.
That's largely because this was the seventh automated e-grocery fulfillment center H-E-B has opened, and number seven is never as newsworthy as number one. But it certainly reinforces the points McKinsey is making in their article. H-E-B was aggressive in moving into automated fulfillment and is continuing to build out its network using technology, processes and partners that have proven effective at delivering a consistent and seamless omnichannel experience for its customers.
Automation and Customer Excellence
That got a me thinking about the connection between automation and customer excellence and the more I thought about it, the more I realized how strong that connection is. Automating e-grocery fulfillment supports customer excellence in at least four critical areas.
1.

Protecting the in-store experience
Even before the pandemic spiked e-grocery demand, H-E-B was considering how to support an omnichannel future and one of their key concerns was the impact of in-store e-grocery order picking on the in-store experience.
Using surrogate shoppers, with their oversize multi-order carts, to fulfill online orders creates aisle congestion that frustrates in-store shoppers and distracts from the experience the grocer has invested time and resources creating.
As order volumes grow, aisle congestion is only one of the negative byproducts of using the store as a fulfillment center. Stores are often designed to encourage exploration and that creates an inefficient environment for order fulfillment. That inefficiency not only increases fulfillment costs but also amplifies existing labor challenges, which CEOs surveyed by McKinsey cited, along with inflation, as the biggest challenges grocers face in 2023. Without the labor to scale with demand, fulfillment processes take longer, pickup or delivery windows during peak periods are more limited, and the risk of mis-picks is increased.
In short, when the store is used as a fulfillment center, the experience of both the in-store and online customer is likely to be compromised.
2.

Increasing confidence in online shopping
Minimizing in-store picking is the first step in growing an omnichannel business. However, as volumes grow, manual picking in general – even when performed in a dedicated fulfillment center – will limit profitability, scalability and speed. That has led grocers like H-E-B and
other Swisslog customers
to automate the process. When considering customer excellence, the type of automation selected can be as important as the decision to automate.
Both shuttles and cube-based storage systems have been used to support e-grocery fulfillment. At Swisslog we have our own shuttle system,
CycloneCarrier
, that is delivering excellent performance to our customers in a variety of applications, including e-commerce. But e-grocery fulfillment is different than other forms of e-commerce in two important ways, and those differences highlight a weakness of shuttle technology that other applications don't.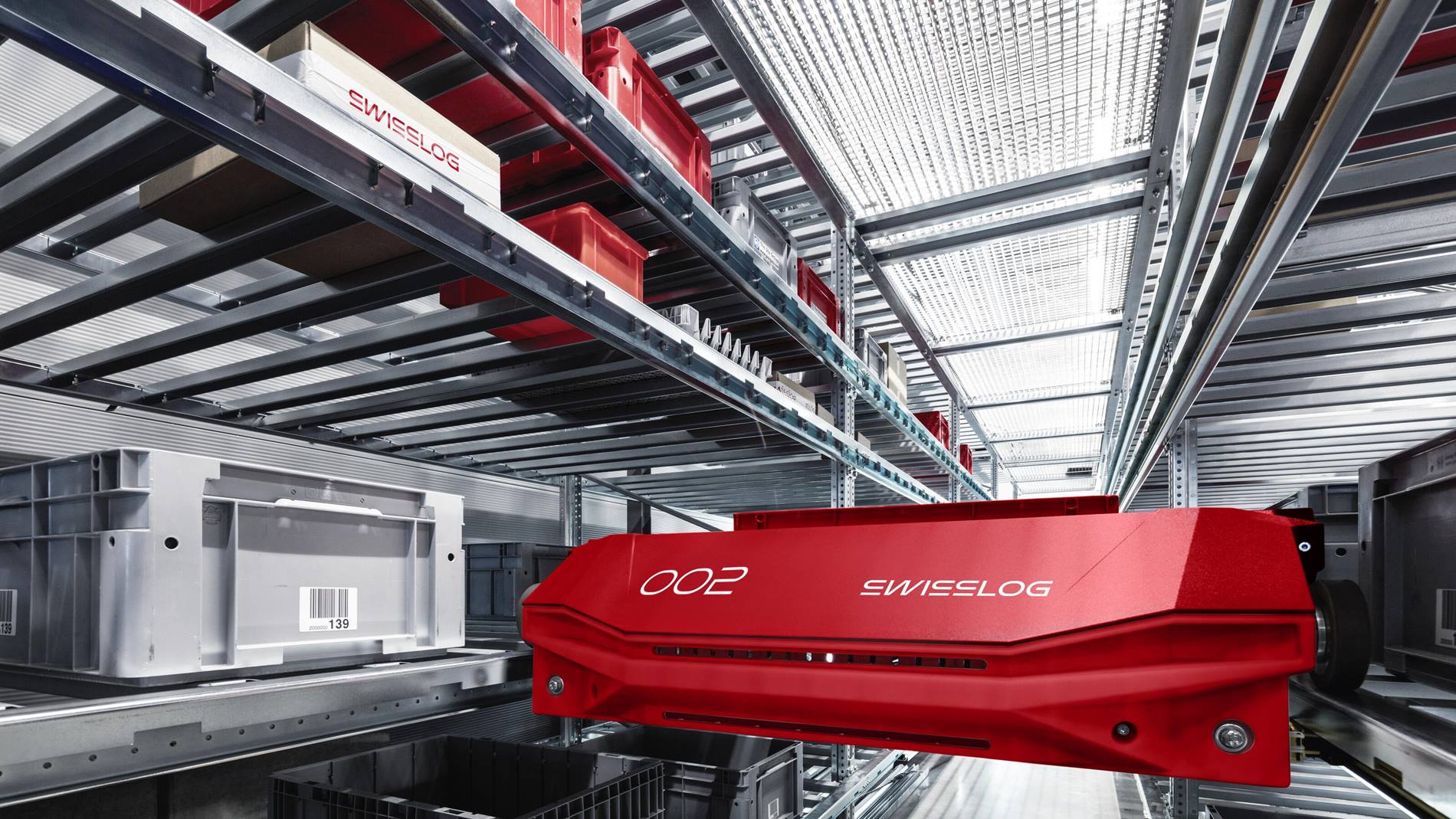 The first difference is order complexity. Most e-commerce orders have relatively few order lines; in e-grocery, a small order could have 20 or more order lines and larger orders often reach 80 or more. If you lose access to some inventory in an e-commerce application, you may still be able to fulfill a good percentage of orders. If you lose access to some inventory in e-grocery, fulfillment comes to a halt.
The other difference is that most e-commerce warehouses are managing order picking based on set shipment times. If there's a problem with the system that limits access to some inventory, you often have time to resolve the issue and get back on schedule.
E -grocery is more like a manufacturing assembly line where you have a constant stream of orders being prepared for pickup and delivery throughout the day. If you fall behind with one group of orders, it not only creates dissatisfaction with customers picking up or waiting for delivery of those orders, it ripples throughout the day with no opportunity to get back on schedule.
With a shuttle system, a problem with one component can shut down an entire aisle. In a three-aisle shuttle configuration common in e-grocery, that means losing access to a third of the inventory in the system. If it takes an hour to clear the error, the schedule for the day is disrupted and customers lose confidence in your ability to fulfill orders when expected.
With a grid-based systems like
AutoStore
, if any robot has to be taken offline, the other robots can continue to access the entire grid, allowing order fulfillment to continue. Swisslog even has a special feature in our SynQ AutoStore control module that allows other robots to work around a stalled robot before it is taken off the grid. Access to the bins directly under the stalled robot will be temporarily unavailable until the robot is moved, but orders can still be filled from products in the rest of the grid.
3. Delivering the selection and quality online customers expect
The other advantage that grid-based systems have over shuttles is storage density. As McKinsey notes, customers want a seamless experience across channels and that means access to the same products online as they have in-store. The density of a grid-based system allows a much higher percentage of SKUs in the automation system and limits the number of substitutions online customers are forced to accept.
With the right software, automation systems also do an excellent job managing the inventory that supports online orders, providing more control over freshness and quality. Our SynQ system can support just about any inventory management strategy, including selection of products based on expiry and best-by dates. The system also improves pick accuracy compared to manual processes by presenting pickers with the right product and confirming that the right SKU has been selected. This is particularly significant when compared to the accuracy of order fulfilment by third-party in-store "shoppers" who often are not familiar with a given store's layout or product offerings.
4. Giving consumers the convenience they want
E-grocery is no longer a necessity as it was for many consumers during the pandemic. Instead, to many it's a convenience that allows them to get extra shopping done during the middle of a busy week or pick up some needed groceries on their way home from work without getting out of the car. This puts a premium on speed and predictability of fulfillment, both of which a well-designed automation system can deliver better than manual processes. Failing here hurts the grocer's brand that they've worked for decades to cultivate.
Rohlik, an e-grocery retailer operating in multiple international markets worked with Swisslog to ensure its
new automated fulfillment center
could meet its customers' desire for speed and convenience. Ten percent of the orders fulfilled through the high-volume center are out for delivery within 60 minutes of order placement, creating competitive advantage and building loyalty. SynQ manages picking and fulfillment of these priority orders to maintain high throughput for the entire operation.
The Path Toward Omnichannel Success
Grocers like H-E-B and Rohlik have been aggressive in moving forward with plans that allow them to consistently deliver the experiences their customers expect in today's omnichannel environment. Automation isn't usually the first step on this journey, but it is increasingly proving to be an essential one for grocers seeking to differentiate based on the customer experience they deliver, while controlling the cost of fulfillment. To learn more about Swisslog's approach to e-grocery automation,
contact us
.