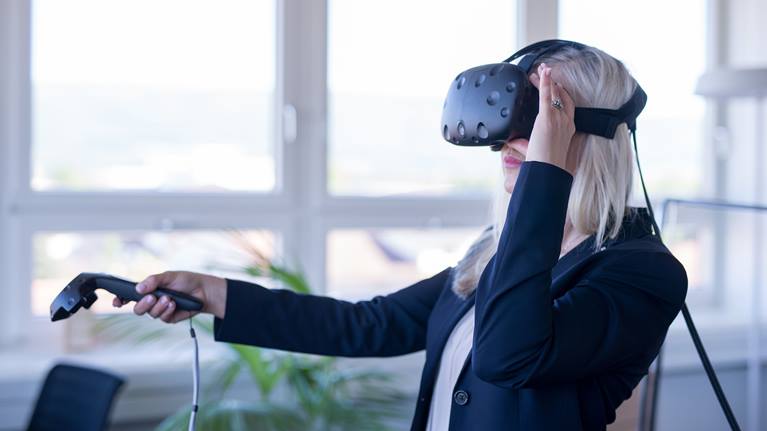 The New Era of Logistics Automation Is Here
Join Swisslog and KUKA at stand F12 at CEMAT Melbourne on 24-26 July 2018 and experience Swisslog and KUKA's smart intralogistics solutions that combine warehouse automation with robotics, human-machine collaborations as well as augmented reality applications. Talk to one of our experts to see how you can benefit from Industry 4.0 intralogistics solutions to automate your warehouse for the future.
Experience Swisslog and KUKA's smart intralogistic solutions and explore cyberphysical systems with our virtual reality technologies that combine warehouse automation with robotics. Discover the new era of robotics with KUKA's collaborative robot as well as augmented reality applications. Speak to one of our experts to discover how your business can benefit from a modular and automated solution that will grow with your business.
Discover Industry 4.0 applications with KUKA Connect, which is the newest IoT solution for smart manufacturing and a cloud-based software platform that allows users to access analytics of their KUKA robots from any device at any time. Furthermore, explore how SynQ is using Industry 4.0 principals to provide condition monitoring and digital shadowing to shape the future of your warehouse efficiencies.
Join us at the CEMAT 'Knowledge Theatre' where our senior consultants Martin Kohl and Paul Stringleman will be discussing how Industry 4.0 advancements are affecting warehouses and supply chains. Please see speech details below:
Martin Kohl
Martin will take a deep dive into the interrelationship of materials handling and its connection to Industry 4.0. Exploring notions such as how investment in automation can optimise processes, not only in your warehouse but throughout your supply chain. Furthermore, he will explain the changes that are happening in the picking area of intralogistics and how goods to robot technologies will shape the future of the industry. Martin will discuss the advances in technology that are shaping the industry, including collaborative robots such as ItempiQ and fully automated pallet solutions like ACPaQ that are creating warehouses of the future.
Paul Stringleman
Paul will discuss the 'Kaizen Paradox' which is a common predicament for many businesses, where investments are made to achieve productivity gains, but in doing so they dilute the business case for a better investment, causing them to plateau at a lower level of productivity. He will explore the different paths to automation i.e. a Kaizen approach that involves continuous improvement and Kaikaku which consists of a major step forward or radical change. Furthermore, taking a deep dive into how this false start can be evaded with advances in Industry 4.0 technology and modular systems that mitigate long-term business risks.
To download Paul's whitepaper click here.