A total solution tailored to the customer's needs
Durée de lecture :
10 minutes
As a leading international company specializing in warehouse automation, Swisslog provides total solutions tailored to customers' needs. In addition to designing and integrating automated systems, Swisslog also builds on their own smart SynQ software to make warehousing more efficient.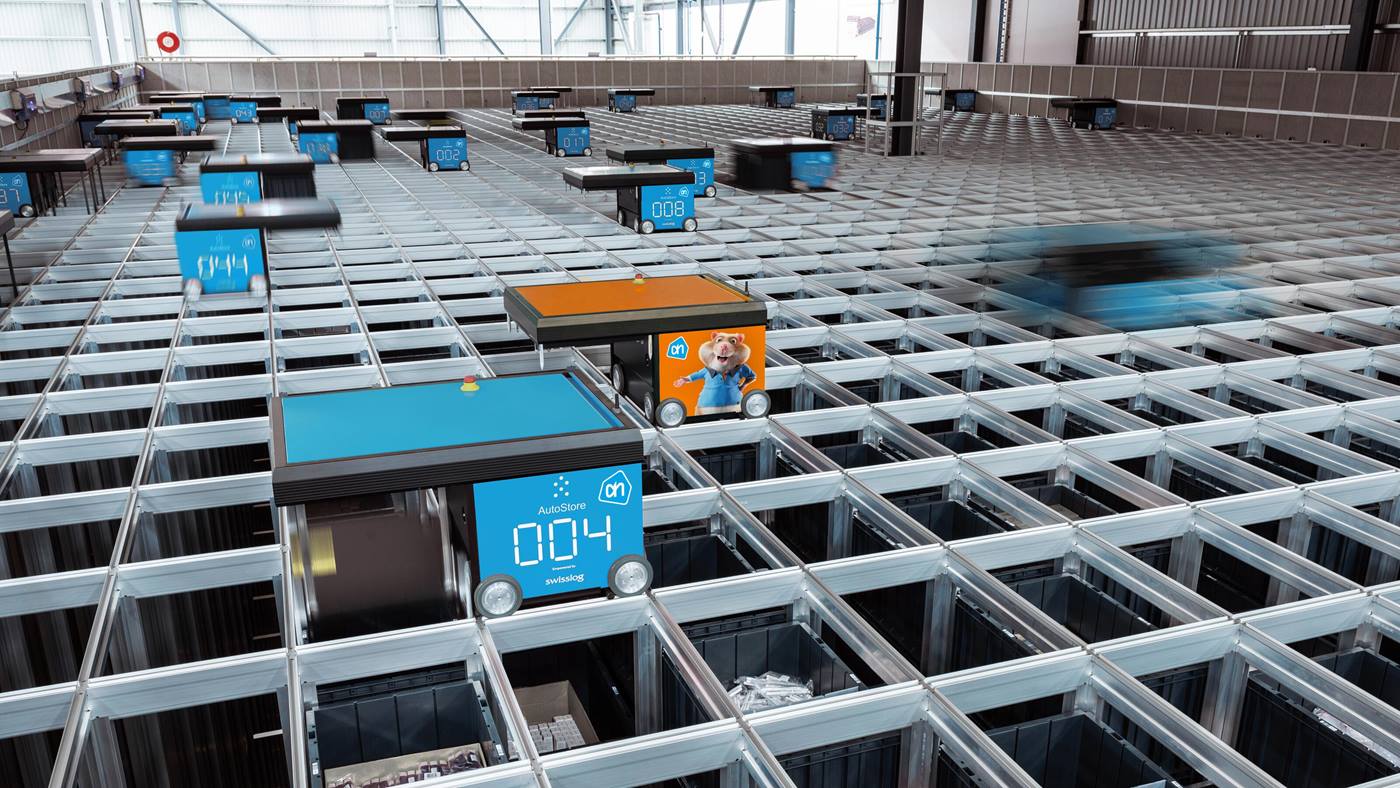 One of their recent projects is Albert Heijn's automated Home Shop Center (HSC) in Barendrecht. There, Swisslog is building an efficient automated logistics solution where different technologies, including an AutoStore system, work together to fill grocery crates, transport them in the warehouse and sort them for delivery to the customer. Sander van Bussel, Sales Manager Benelux, talks more about this powerful piece of technological innovation.
1.
Why did Albert Heijn choose to work with Swisslog?

Swisslog specializes in developing, engineering and implementing advanced logistics systems. We have an extensive product range, an in-house software system – SynQ – and in-depth technological expertise. Since 2014, we have been part of the KUKA Group, a leading German robotics company, which also allows us to offer the latest robotics technologies. Thanks to our expertise and extensive product range, we have built up a good reputation. Moreover, our focus is on finding creative solutions for our customers, including Albert Heijn, one of the largest retailers in the Netherlands.
2.
Can you tell a bit more about the project at Albert Heijn?

Albert Heijn partnered with Swisslog to build an automated fulfillment center for direct home delivery to customers. The HSC project includes various processes of booking, storage, picking and sorting. In addition, Swisslog is responsible for implementing QuickMove conveyors, integrating SynQ software and implementing an AutoStore; a robotic storage and order picking system.
3.
How does order picking work in an automated warehouse?

We make sure that people and technology can work together as well as possible. By using technology, we want to make the work even more efficient, lighter and better for people. Goods are taken via robots to workstations, where operators place the products in crates. These crates are then automatically brought to the dispatch area. By automating transport to the operator, they no longer have to walk and become more efficient. In addition, our software makes intelligent choices such as prioritizing heavy items before lighter items are picked up and placed in the basket.
4.
What is the timeline of the project at Albert Heijn?

A contract was signed last year. The on-site installation started in March 2023 and will be ready for a controlled ramp up by the end of this year to be fully operational in 2024.
5.
What are the benefits of warehouse automation?

We strive with our customers to achieve an optimized and streamlined logistics process, with a focus on efficiency. Automation makes it possible to increase productivity, increase throughput and increase storage capacity. Making work better and simpler for employees helps prevent errors. In addition, automation also ensures that organizations are future-proof because they can anticipate future developments, such as shorter delivery times. Thanks to automation, companies are more competitive and can continue to meet rising customer expectations.
6.
What exactly does Swisslog's approach involve?

Swisslog is responsible for end-to-end project management, from concept development to customer service. The process includes a thorough analysis of the customer's needs, site and historical data. We then design an appropriate concept and project plan. We leverage our international resources and expertise, integrating both our own products and external resources to provide a turnkey solution. The development of the solution is done in close cooperation with the Albert Heijn team. In addition to that involvement, Albert Heijn is also investing in in-depth systems knowledge to ensure a smooth implementation. Even after implementation, Swisslog remains involved with support and optimization through its customer service department. This can range from a support line to a dedicated Swisslog team on site to detect failures, analyze data and optimize processes where necessary. At Albert Heijn they believe that a proof of concept with its proven strengths can flawlessly improve the business with joint commitment and involvement in the solutions.
7.
How do you differentiate yourselves from other companies in the industry?

By really listening to the customer. We find out exactly what they want to achieve with automation and then together we develop an appropriate solution that meets their specific needs. We work closely with the customer throughout the process: from concept, to elaboration, evaluation and adaptation. We actively think along with our clients to make the solution suitable for their business operations.
8.
What innovative technologies do you still have in your portfolio?

Currently, we are seeing a growing interest in goods-to-robot systems instead of goods-to-man systems. One of our newest applications is the promising ItemPiQ robot, a fully automated order picking solution. The robot can recognize and pick products from a stock bin thanks to an intelligent vision system, then the robot places the product in the correct destination location, such as a crate or carton. The advantage is that it is self-learning, can work continuously (24/7) and is designed to perform repetitive operations flawlessly. With advanced technologies and seamless software integration, the application helps reduce costs, increase efficiency and remain flexible.