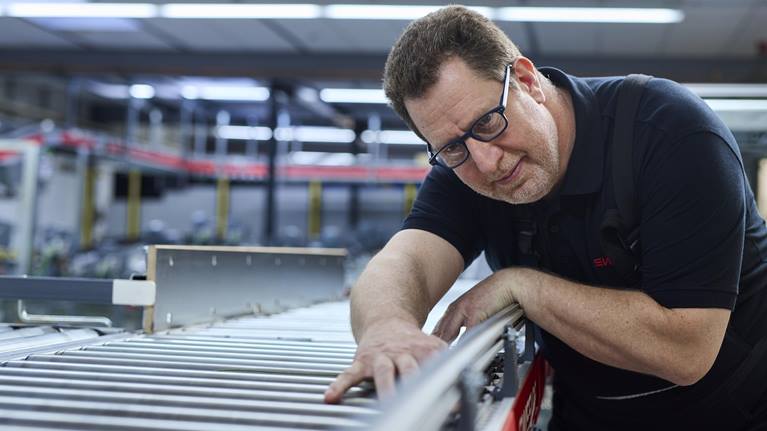 CS Project Engineer
den 14 juni 2021
Are you looking for an exciting new challenge – one where you can really make a difference? Are you passionate about technology and keen to share your expertise internationally? Step forward and discover Swisslog! Working as part of our #CustomerService Team with a great team spirit, you will use the power of technology to shape the future of intralogistics for forward-thinking customers. We're offering a talented individual the opportunity to join our incredible team and get the most out of their potential – could it be you?
Sammanfattning
Edegem, Belgien

Installation / Maintenance / Repair

Regular/ Permanent/ Full-time
Dina arbetsuppgifter
Responsible for managing Customer Service projects by supporting sales (service, projects and spare parts), execute planning and Realisation at customers site
You will actively take the lead in the engineering, commissioning and project management of Customer Service projects
Follow up / solve warranty issues
Ensure that your projects are performed correctly in terms of customer satisfaction, technical aspects, timing, financial aspects and in accordance with Swisslog's guidelines
Vad du tar med dig till oss
Degree in Industrial engineer Electro Mechanics
A broader knowledge and experience in Logistics Distribution Centers and the specific applied applications as High Bay warehouses, Conveyor systems, Robots, Software platforms, Electrical & Mechanical systems and Automation
Project Management skills as but not limited to communication at all levels in the Swisslog and Customer organisation, Project Engineering from A to Z, Risk Management, Troubleshooting and Problem solving via Root Cause Analysis, Knowledge of software controlled logistic systems and understanding of daily operational problems in a distribution center
Experience in PLC systems as e.g. Beckhoff, S7 & PC (server client, RF) systems
Ability to analyse data and information to develop solutions
Vårt löfte
Swisslog erbjuder dig möjlighet till personlig utveckling när du gemensamt med oss förverkligar vår mission: Att permanent förändra framtidens intralogistik med robotbaserade och datastödda lösningar som skapar unik kundnytta. Vi är stolta över vårt schweiziska arv, men våra produkter och tjänster efterfrågas på en global marknad. Vi förväntar oss inte perfektion, utan istället Collaboration, Commitment, Clarity och Competence (våra kärnvärden) från alla medarbetare. I gengäld erbjuder vi dig att vara med och driva på de tekniska lösningar som kommer att förändra framtiden.
Pensionsplan
Fördjupa dina kunskaper och väx
Tjänstebil
Stora varumärken som kunder
Om Swisslog
Swisslog skapar #framtidens #intralogistik. Som en del av KUKA-gruppen utvecklar vi innovativa tekniska lösningar som kommer att förändra världen. Vårt team består av 2 000 experter från 50 länder. Till kundkretsen hör några av världens största och mest spännande varumärken. Vårt gemensamma mål är att revolutionera intralogistiken på ett smart sätt och med nya angreppssätt. Med flexibla #robotbaserade och #datastödda automationslösningar effektiviserar vi försörjningskedjan och driver på industrin. #Bli en del av vårt team och förverkliga dina idéer!