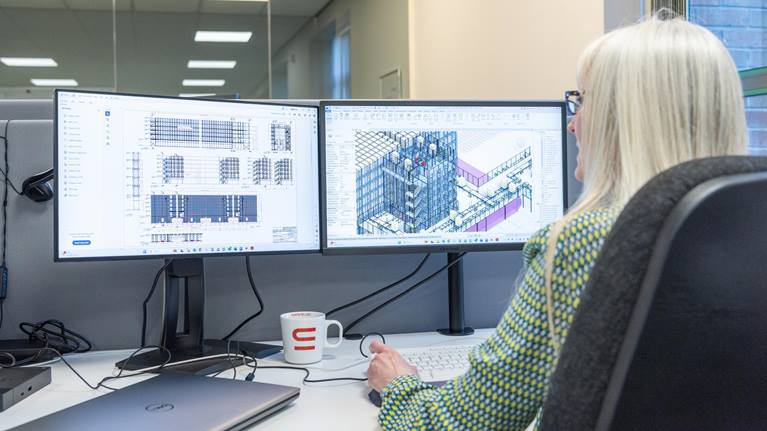 System Designer
Multiple Locations
den 29 januari 2021
Are you looking for an exciting new challenge – one where you can really make a difference? Are you passionate about technology and keen to share your expertise internationally? Step forward and discover Swisslog!

Working as part of our #ConsultingAndSolutionDesign team with a great team spirit, you will use the power of technology to shape the future of intralogistics for forward-thinking customers. We're offering a talented individual the opportunity to join our incredible team and get the most out of their potential – could it be you?
Sammanfattning
Newport News, VA, USA

Consulting and Solution Design

Regular/ Permanent/ Full-time
Dina arbetsuppgifter
Support the sales and consulting team with knowledge related to building interface (rack designs, floor loads, HVAC, Fire Suppression, mezzanine designs, electrical power & air connection requirements
Support Logistic Consultants with technical equipment dimensioning and ASRS rack layouts based on instructions from Logistic Consultant
Proactively own design optimization initiatives and suggestion optimal ASRS rack designs (based on rack vendors typical designs and required client application).
Support Sales, System Engineering & Consultants with writing specifications for building interface parts in Swisslog budget and firm bid documents.
Design and dimension rack/ASRS solutions using Swisslog tools. Specify requirements for rack vendors and others related to building interface.
Be a subject Matter Expert in building interface (relative to material handling equipment) within Consumer Goods BU.
Execute CAD drawings to show the rack configurations and ASRS solutions
Location details: Remote work is available for this position. We prefer candidates in the eastern time zone.
Vad du tar med dig till oss
At Swisslog, it all starts with you. Your motivation. Your amazing talents. Your commitment. We understand that truly innovative ideas come from an inspired workforce.

We search for talented and motivated team players – people who want to enjoy an engaging work experience at one of our many locations around the world – people who wish to fully realize their potential.
Vårt löfte
Swisslog erbjuder dig möjlighet till personlig utveckling när du gemensamt med oss förverkligar vår mission: Att permanent förändra framtidens intralogistik med robotbaserade och datastödda lösningar som skapar unik kundnytta. Vi är stolta över vårt schweiziska arv, men våra produkter och tjänster efterfrågas på en global marknad. Vi förväntar oss inte perfektion, utan istället Collaboration, Commitment, Clarity och Competence (våra kärnvärden) från alla medarbetare. I gengäld erbjuder vi dig att vara med och driva på de tekniska lösningar som kommer att förändra framtiden.
Fördjupa dina kunskaper och väx
Mycket god laganda
Stora varumärken som kunder
Om Swisslog
Swisslog skapar #framtidens #intralogistik. Som en del av KUKA-gruppen utvecklar vi innovativa tekniska lösningar som kommer att förändra världen. Vårt team består av 2 000 experter från 50 länder. Till kundkretsen hör några av världens största och mest spännande varumärken. Vårt gemensamma mål är att revolutionera intralogistiken på ett smart sätt och med nya angreppssätt. Med flexibla #robotbaserade och #datastödda automationslösningar effektiviserar vi försörjningskedjan och driver på industrin. #Bli en del av vårt team och förverkliga dina idéer!
We Offer
We offer you opportunities to grow and develop every day. We take pride in our rich diversity. You don't have to fit into a mold at Swisslog. We are seeking team members with: strong drive; true commitment; relentless curiosity; the desire to chart their own course; and the passion to deliver innovative solutions through by working with and leading others.