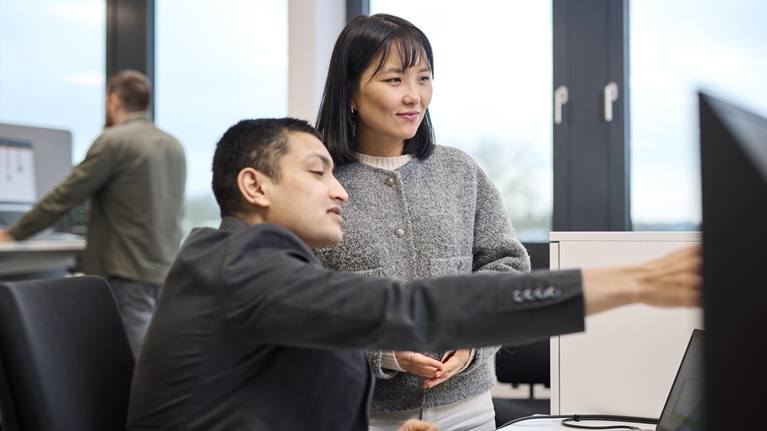 Project Engineer
Location: Mason, Ohio
6. huhtikuuta 2021
Tiivistettynä
Cincinnati, OH, Yhdysvallat

Engineering

Regular/ Permanent/ Full-time
Mitä saavutat meillä
(-)Participate in kick off meeting for project implementation and meet with local authorities for OSHA standards, to obtain necessary information to ensure compliance.(-)
(-)Participate in the subcontractor audit and carry out WMS and subsystem components manufacturing acceptance tests. Check the subcontractor's OH&S and local standards manufacturer's declarations/compliance.(-)
(-)Produce and maintain the Execution Specification for overall plant characteristics based on the offer, contract and basic data, referring to the WMS and subsystem execution specifications.(-)
(-)Design solutions to enable a proper technical execution for the purchasing and implementation of the subsystem equipment and manufacturing(-)
(-)Control and coordinate the Design interfaces of the different subsystem components and check that they are fitting together to ensure the site assembly can take place without difficulties(-)
(-)Perform Availability Tests and carry out final acceptance with the subcontractors and customer at the end of the Warranty Period.(-)

Mitä tuot meille
Essential
(-)BS in Mechanical Engineering, Industrial Engineering or System Engineering(-)
(-)Courses in automated material handling, logistics applications(-)
(-)Computer literate in all MS Office products and AutoCAD.(-)
(-)Basic understanding of Industrial Automation and Control Systems.(-)
(-)Excellent written and verbal communication skills.(-)
(-)Analytical, problem-solving and decision-making skills.(-)
(-)Demonstrated presentation skills.(-)
(-)Demonstrated ability to review and finalise the technical details and interface of subsystem design provided by external and internal suppliers.(-)
(-)Demonstrated ability to provide "attention to detail" of a high-tech installation in a similar environment.(-)
(-)Able to take ownership of assigned project responsibilities and deliver a successful project outcome to customer expectations(-)
(-)Cost calculation of contract variation for different solution designed and offered by the Project Manager(-)
(-)Ensure that the mechanical, electrical and controls aspects of the project are carried out in a manner which is in line with applicable codes and Swisslog Standards Including Occupational Health and Safety(-)

Desired
Application knowledge of automated material handling equipment such as
(-)AS/RS – automated storage and retrieval systems(-)
(-)Pallet and case conveyors(-)
(-)Sorters(-)
(-)AGV's(-)
(-)Monorails(-)
(-)Robotics(-)
(-)Experience with 2D and 3D CAD design, drafting, modeling, and engineering software(-)
(-)Experience with mechanical and electrical installation onsite, commissioning and testing.(-)
(-)Basic understanding of Industrial Automation – specifically Control Systems for automated material handling equipment.(-)
(-)MS Project, Solid Works (or other 3D-modelling software)(-)
(-)Experience with racking applications, sprinklers and building interfaces.(-)
(-)Experience in applicable codes and regulations NEC, OSHA, ASME(-)
(-)Understanding of warehouse management software products.(-)


Lupauksemme
Swisslog tarjoaa sinulle mahdollisuuden henkilökohtaiseen kehittymiseen samalla kun työskentelet kanssamme uraauurtavan tavoitteen parissa: intralogistiikan tulevaisuuden muuttamiseksi luomalla robottipohjaisten ja tietosuojattujen ratkaisujen aikakauden, jolle on ominaista huomattava asiakastyytyväisyys. Olemme ylpeitä sveitsiläisistä juuristamme, mutta tarjoamme mahdollisuuksia ympäri maailmaa. Emme odota täydellisyyttä, vaan yhteistyökykyä, sitoutumista, selkeyttä ja osaamista (ydinarvomme) kaikilta työntekijöiltämme. Me puolestamme tarjoamme mahdollisuuden olla osana eteenpäin ajavaa voimaa sellaisten ratkaisujen takana, jotka muuttavat tulevaisuutta.
Oppiminen ja kasvaminen
Great Team Spirit
Globaaleja mahdollisuuksia
Tietoja Swisslogista
Swisslog muokkaa #intralogistiikan #tulevaisuutta. Osana KUKA-yhtiötä työskentelemme uusimpien teknologioiden parissa, jotka muuttavat maailmaa. Tiimiimme kuuluu 2 000 asiantuntijaa 50 maasta, joiden asiakkaina on joitakin maailman suurimpia ja innostavimpia merkkejä. Työskentelemme yhdessä älykkäällä tavalla ja uusista näkökulmista saadaksemme aikaan intralogistiikan vallankumouksen. Joustavilla #robottipohjaisilla ja #tietosuojatuilla automaatioratkaisuillamme tehostamme hankintaketjua ja kehitämme teollisuutta. #liitytiimiimme ja herätä ideat henkiin!
We Offer
Swisslog offers challenging work in a globally networked environment as well as competitive base salary, comprehensive benefits including health/dental and 401k! United efforts of our employees represent the basis for developing and delivering the best solutions for our customers.