Award-winning technology for bespoke mixed case pallets
One of the biggest challenges for large supermarket chains is the creation of bespoke mixed pallets, unique to each individual store's needs. As SKU requirements differ based on the local demographic and even the store format, it is vital for grocers to account for this in their palletizing process.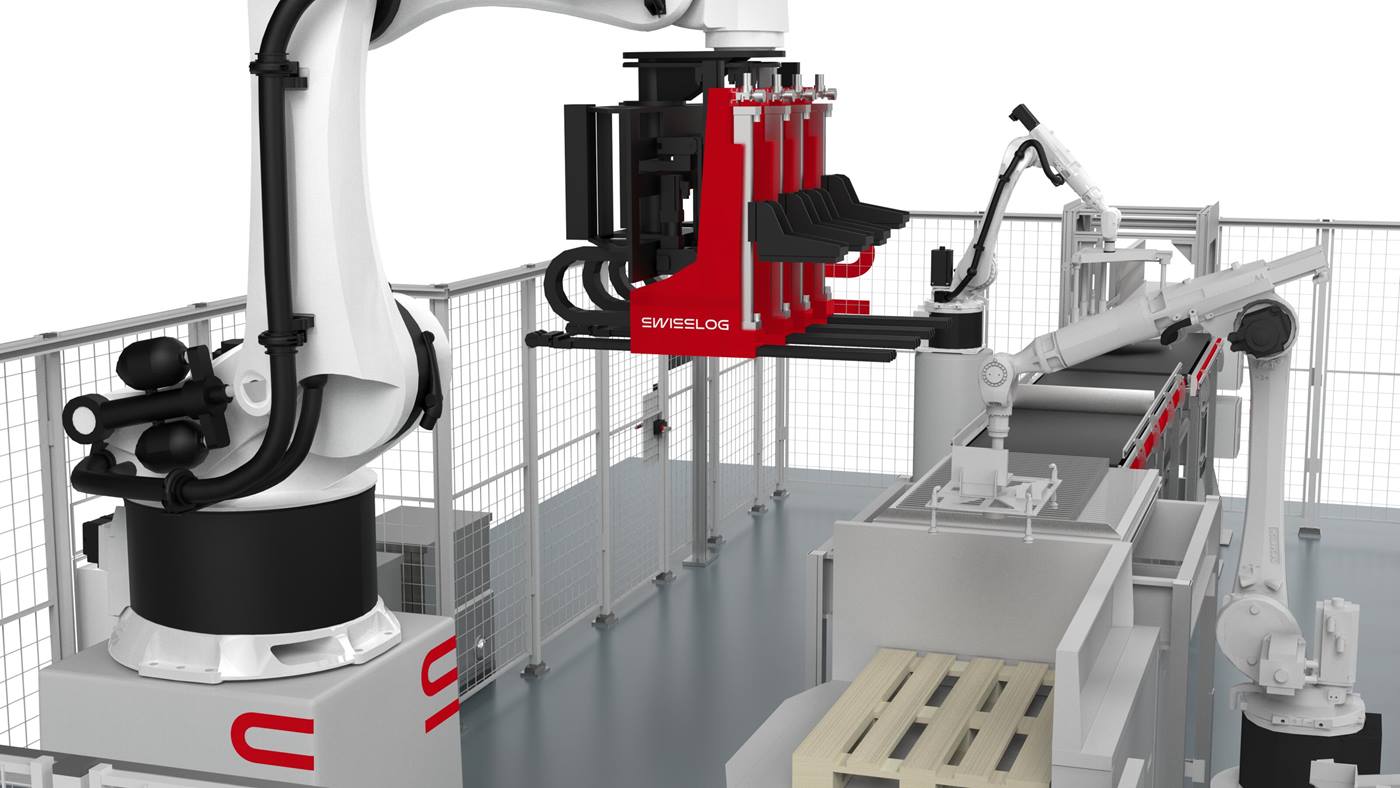 Especially during the pandemic, it became a social duty to get stock on the shelves as quickly as possible to ensure the shoppers' experience wasn't hindered by empty shelves. But even in a post-pandemic world, supermarkets will continue to factor speed and accuracy into their strategies.
The long and monotonous manual approach to building customised mixed pallets from single-SKU pallets is clearly imperfect. With a manual logistics process, an increase in demand means spending more on labour and the risk of a tired workforce hindering productivity. But through the use of flexible automation, grocers can potentially triple the speed of the palletizing process.
ACPaQ is a universally applicable solution for fully automated order picking of mixed case pallets – also known as "rainbow pallets" – based on the requirements of forward-thinking companies. It combines best-in-class KUKA robotics and Swisslog's long-term experience in building logistics solutions.
Modular automated rainbow pallet building
Made up of a combination of proven logistics technology, ACPaQ is flexible and highly configurable. With a modular design, it is specifically developed so extra capacity can be added with increasing demand as businesses grow. It seamlessly blends robotic solutions for depalletizing and palletizing with Swisslog's light goods shuttle system CycloneCarrier.
De-palletization and storage
If the customer needs automated de-palletization, the process begins with a robotic solution taking cases from a single-SKU pallet and placing them in the CycloneCarrier system. Depending on customer requirements, a manual approach can also be taken for this step.
Case buffer and storage solution
The high-speed shuttle CycloneCarrier serves as a case buffer and storage solution, releasing the cases in the correct sequence once an order is assigned. The sequence in which the goods are released is calculated by Swisslog's mixed case palletizing software. This ensures pallets are organised in line with individual store needs and layouts, allowing shelves to be replenished in an optimised way.
Mixed case palletization
The sequenced cases are then transported to the palletizing robot, RowPaQ. Designed for mixed row palletizing, RowPaQ is best described by visualising a 3D game of Tetris. The KUKA robot uses self-learning technology to make the best use of a cube, storing cases to fit snug with each other like a giant puzzle. It even calculates which cases should be placed at the bottom of the pallet (heavier items) and which should be placed near the top (lighter products).
To do this, it uses a unique 4 fork gripper that can handle a multitude of case shapes and sizes, which means it is not restricted to processing only a single SKU at a time. The robot gently and simultaneously handles multiple package types with varying dimensions.
The SynQ Effect
The entire ACPaQ system is managed by Swisslog's intelligent warehouse management software SynQ. It selects the cases required for order fulfilment and creates retrieval orders, as well as activating and controlling all movements within the system. The entire system, its components and software are perfectly integrated to ensure a reliable and transparent operation.
Proven Swisslog technology
ACPaQ technology has already been deployed inside several food and beverage warehouses and large-scale retailer facilities, where there is a need for fast and reliable automated mixed case palletizing.
Leading brands across the globe have implemented the solution, supporting businesses with building pallets of different products whilst remaining stable, correct and store-friendly, reducing in-store costs. For one customer, ACPaQ introduced automatic picking to more than 90% of products.
The solution has also caught the attention of the German logistics association Bundesvereinigung Logistik (BVL) last year, when dm-drogerie markt's distribution centre was recognized with the German Logistics Award 2020.
To find out more about Swisslog customer experiences and to download a helpful Factsheet, visit swisslog.com/ACPaQ.
German Innovation Award
The German Logistics Award presented to dm-drogerie markt for their Brandenburg facility isn't the only recognition ACPaQ has received. The fully automated mixed case palletizing solution was also a winner in the German Innovation Awards in 2020, in the "Machines & Engineering" category.
The Swisslog system can be used in ambient temperature and chilled warehouse zones, with the ability to handle all types of cartons, shrink wrapped or foiled packages, and pallet types used in retail and beverage industries.