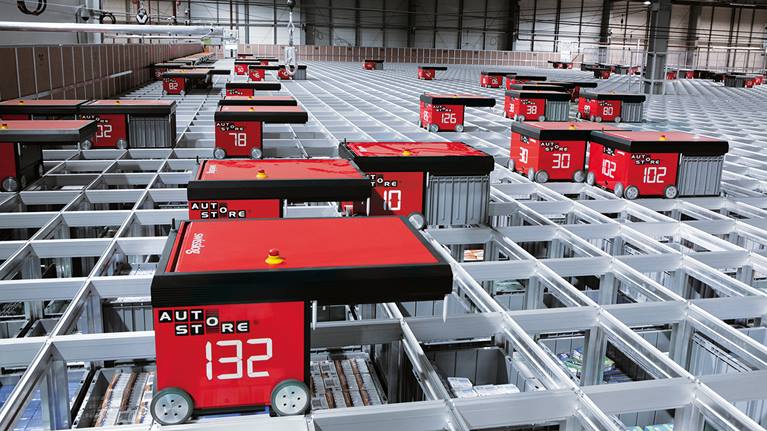 Is the Sorter the Cause of E-Commerce Fulfillment Disorder?
Automated sortation systems once represented the state-of-the-art in warehouse technology. But they can't deliver the flexibility e-tailers now require and are being displaced by mobile, modular solutions.
6 July 2017
There was a time, not too long ago, when an automated sortation system seemed essential to achieving the efficiency and productivity today's e-commerce and omni-channel fulfillment centers require. But, while sortation systems do provide accuracy and efficiency when they are optimized for current conditions, they don't adapt well to change.
With the uncertainty in the e-commerce market today, inflexible sortation systems may end up causing as many problems as they solve.
Here's an example of what I'm talking about. We recently worked with an e-tailer who had sustained growth of 10 percent a month for a year when they came to us for help in designing their new distribution center.
One approach to this design challenge would have been to collect all of their fulfillment data, analyze it, work with them to make some projections about the future, and design an automated warehouse based on that data. But in this case, the use of data would have created a false sense of precision.
The reality was the customer didn't really know what to expect in the next year, let alone the next five years. If we assumed continued strong growth, we risked oversizing the warehouse and forcing them to make a capital investment that could compromise their ability to sustain the rate of growth for which we were designing. If we were too conservative, they would outgrow the new DC and be right back in the planning stage a year or two after the new warehouse opened. And, in either case, would the automated sortation system be able to adapt to new products or changes in packaging?
Fortunately, e-commerce fulfillment technology now provides a solution to that dilemma by delivering what has quickly become the overriding design criterion for any distribution center supporting e-commerce: flexibility.
The solution for that fast-growing e-tailer turned out to be a semi-automated system that relies on advanced software to support both wave and waveless picking based on SKU volume. Fast-moving and bulky items are loaded directly from pallets next to the conveyor system while medium-volume products are located on a carton flow shelf, with multiple items side by side in lanes next to the conveyor. Slow movers are picked manually from bin shelves, away from the conveyor. The design provides maximum flexibility for current throughput while enabling the ability to add pick lines and pick stations as needed to accommodate future growth.
From mobile robots to automated storage and retrieval systems to automated item pickers, a range of fulfillment technologies can deliver productivity and efficiency comparable to sortation systems with much greater flexibility. Here are four traits to look for when evaluating the flexibility of e-commerce fulfillment technology:
Mobility: Just as cell phones are more flexible than traditional landlines, mobile robots, such as CarryPick from Swisslog, are inherently more flexible than a bolted-down solution. They enable a goods-to-person picking strategy that cuts pick times while allowing operators to reconfigure on the fly or quickly add more robots to accommodate growth.
Modularity: Modular storage solutions, such as Swisslog's AutoStore, support high-density goods to person storage through a three-dimensional grid that can be expanded—or contracted—as needs change. The key to a modular solution is being able to purchase what you need today and easily scale the system as your needs change with minimal disruption to current operations.
Repurposability: With more e-tailers expanding, or seeking to convert brick-and-mortar retail stores into local distribution centers, the prospect of repurposing automation equipment from one facility to another becomes extremely attractive. Solutions such as CarryPick and AutoStore can be moved from one location to another, extending their return on investment.
Software modularity: The bias away from monolithic warehouse systems extends to software as well as material handling equipment. The software that controls automated systems should be as modular as the systems they control. For example, the new SynQ software platform from Swisslog integrates warehouse management, warehouse execution and automation control functionality in a single, modular platform that can be tailored to existing equipment and expanded as required.

If you can confidently and accurately predict your future demand and material handling requirements, an automated sortation system may be a good investment. But, then, if you can do that, you're probably in a business other than e-commerce. In e-commerce, flexibility is now king and today's mobile, modular, repurposable fulfillment solutions deliver it.