Maximizing the Synergies of Co-locating an MFC Within the Retail Environment
Co-locating the MFC at the retail store offers multiple synergies, but the implementation of an MFC requires careful planning.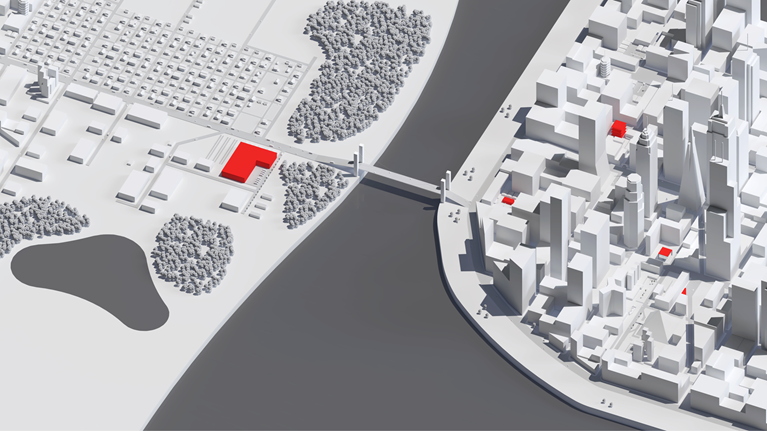 Micro-fulfillment centers (MFCs) are proving to be an important solution for grocers seeking to automate e-grocery fulfillment for pickup and delivery. The consistent volume of e-grocery orders that many grocers are now receiving, and the complexity of those orders, supports a strong
business case for local, automated fulfillment.
The Case for In-Store MFCs
While some grocers have opted to centralize fulfillment in regional distribution centers that support but are physically disconnected from retail stores, there are clear advantages to co-locating an MFC within an existing retail store, when space permits.
In-store MFCs not only enable grocers to leverage their existing retail space, they also can reduce the inventory stocking requirements of the fulfillment center because store inventory can be used to supplement the inventory in the automation system.
Rather than re-creating specialty services, such as prepared foods or butcher services in the regional center, or even investing in cold storage automation, an automated MFC with high-volume manual picking can be configured to fulfill approximately 90% of the typical basket, with the remaining 10% being picked from the store as required.
This enables grocers to leverage the benefits of automation while reducing the size of the investment and offering online shoppers the same breadth of products as in-store shoppers. At the same time, they minimize the negative impact of manual pickers, with their oversize carts, on the in-store shoppers.
Some retailers may also gain synergies in receiving and stocking processes and increased labor flexibility when deploying automation in the store rather than in a separate location.
Overcoming MFC Challenges
While there are obvious advantages to deploying automation in-store, there are some key challenges that must be addressed. The most significant of these is the space an in-store MFC requires. Most MFCs consume between 8,000 and 14,000 square feet and that can create challenges, particularly for smaller stores or those in dense, retail environments with no opportunity to expand the store footprint.
In larger stores without space for physical expansion, some grocers have accommodated MFCs through store compressions. By rearranging and consolidating in-store merchandise, they can create the space required for an MFC and, through the improved efficiency provided by the MFC, increase the sales volume per square foot for a particular location.
Optimizing limited available space may also require re-evaluating processes in the main distribution center. We're working with grocers today who are implementing more case handling processes in their main distribution center to enable shipping of mixed pallets or split case orders specific to the MFC, reducing the space required for receiving and streamlining replenishment at the local level.
A final challenge worth considering is the ability of the MFC automation software to adapt to the specific requirements of e-grocery fulfillment. Just because automation control software can meet the needs of some e-commerce applications doesn't mean it will work in e-grocery. Grocers require greater ability to manage inventory by expiry dates and lot codes, pre-picking and staging capabilities that smooth out the peaks that occur during the most popular order times, and the ability to easily re-configure storage bins at replenishment stations.
Co-locating the MFC at the retail store offers multiple synergies, but the implementation of an MFC requires careful planning and an experienced partner. At Swisslog, we're working with grocers at every stage of MFC evolution—from fully deployed to initial planning—to optimize space utilization, enhance inventory management and increase throughput and productivity.