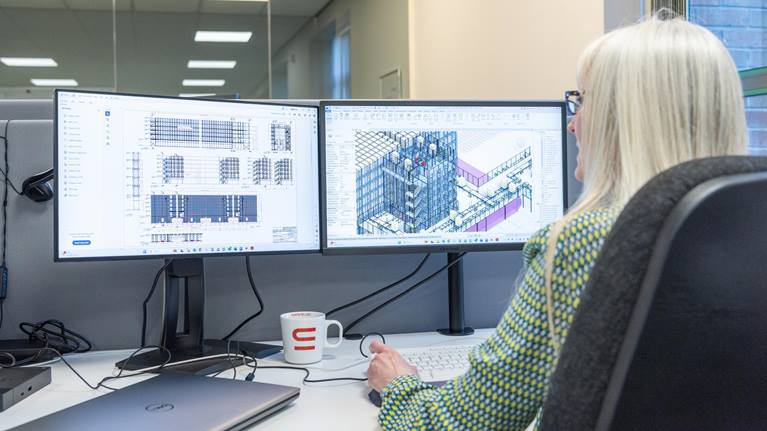 Solution Design Engineer
9 luglio 2021
Are you looking for an exciting new challenge – one where you can really make a difference? Are you passionate about technology and keen to share your expertise internationally? Step forward and discover Swisslog!
Swisslog is a member of the KUKA Group, a leading global supplier of intelligent automation solutions with more than 14,000 employees worldwide.

Working as part of our #Solutionsdesign Team with a great team spirit, you will use the power of technology to shape the future of intralogistics for forward-thinking customers. We're offering a talented individual the opportunity to join our incredible team and get the most out of their potential – could it be you?

Our Solution Design department plays an important role in our sales process with both new and existing customers.
​
As a Solution Designer, you will have a technical responsibility for the concept and detailed design in consulting studies and sales projects as well as submitting fixed price proposals to customers. You will collaborate closely with internal resources such as design support, Software Solution Architect, PLC control specialists and external subcontractors.

A colpo d'occhio
Milano, Italy

Consulting & Solution Design

Regular/ Permanent/ Full-time
Cosa puoi realizzare con noi
To be able to analyse customer's business data, identify existing problems or opportunities and to be able to effectively communicate these to the rest of the team.
To use knowledge of trends and drivers in our customer industries, to evaluate the best concept that differentiates Swisslog from our competitors and adds value to our proposition, highlight pro and cons and identify the best one through ROI and Business Case models.
To work in an international project-related team, supporting the preparation of the offer/contract, together with Sales, local designer, Technology Centre, System engineering, Cost estimating department, controls/software architect and simulation team to sell the system to respective customer.
Design concepts (preferably through Autodesk or 3D tools) including material flow diagrams, sizes and requirements of the functional areas, presenting them to other internal or external stakeholders.
Support and trigger the design review process to validate the design and protect the company from technical risks.
To actively contribute to the development of standard solution in collaboration with solution centre.
Collect feedback from customers/markets regarding solutions in our strategic market segments and share information internally
Qual è il tuo contributo
Bachelor degree or higher in engineering from School of Applied Sciences/University or equivalent
Some experience with technical solutions, preferably automation and logistics
Experience with AutoCad and knowledge in 3D is beneficial, but not required
We use SketchUp and Revit and experience with these tools is an advantage, but not a requirement. Training in all tools will be provided.
Committed, inspired and motivated
Independent and flexible
Proficient in communication and relationship building
Structured
Service minded
Team player
La nostra promessa
Swisslog ti offre l'opportunità di sviluppo personale lavorando con noi in una mission pionieristica: cambiare il futuro dell'intralogistica, creando un'era di soluzioni robotizzate e basate sui dati che generano un eccezionale valore per il cliente. Siamo orgogliosi delle nostre radici svizzere, ma offriamo opportunità globali. Non ci aspettiamo la perfezione, ma da tutti i nostri collaboratori ci attendiamo collaborazione, impegno, chiarezza e competenza (i nostri valori fondamentali). In cambio, offriamo la possibilità di far parte della forza trainante che sta dietro a soluzioni che cambiano il futuro.
Imparare e crescere
Opzioni di lavoro flessibili
Grande spirito di squadra
Ultimissime tecnologie
Opportunità globali
Informazioni su Swisslog
Swisslog sta plasmando il #futuro dell'#Intralogistica. All'interno del gruppo KUKA, ci occupiamo delle più recenti tecnologie che stanno cambiando il mondo. Siamo un team di 2.000 esperti provenienti da 50 paesi, e tra i nostri clienti annoveriamo alcuni dei più importanti e prestigiosi marchi del mondo. Insieme, stiamo lavorando per rivoluzionare l'intralogistica in modo intelligente e con nuove prospettive. Con le nostre soluzioni flessibili di automazione #robotica e #basata sui dati, alimentiamo la catena di fornitura facendo progredire l'industria. #Entra a far parte del nostro team e dai vita alle tue idee!