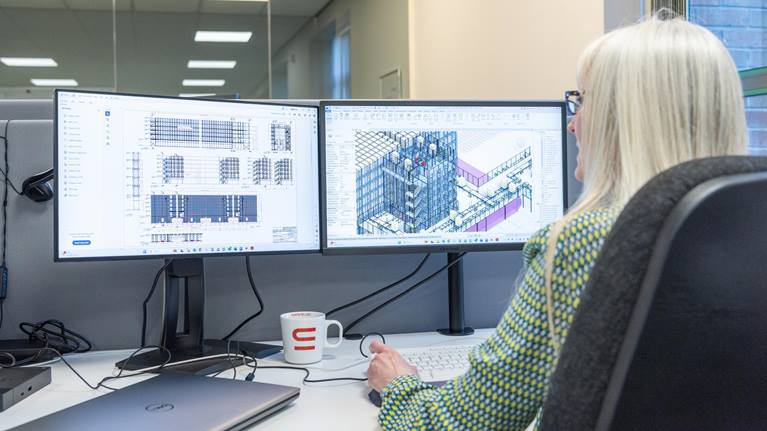 System Designer
Multiple Locations
29 gennaio 2021
Are you looking for an exciting new challenge – one where you can really make a difference? Are you passionate about technology and keen to share your expertise internationally? Step forward and discover Swisslog!

Working as part of our #ConsultingAndSolutionDesign team with a great team spirit, you will use the power of technology to shape the future of intralogistics for forward-thinking customers. We're offering a talented individual the opportunity to join our incredible team and get the most out of their potential – could it be you?
A colpo d'occhio
Newport News, VA, USA

Consulting and Solution Design

Regular/ Permanent/ Full-time
Cosa puoi realizzare con noi
Support the sales and consulting team with knowledge related to building interface (rack designs, floor loads, HVAC, Fire Suppression, mezzanine designs, electrical power & air connection requirements
Support Logistic Consultants with technical equipment dimensioning and ASRS rack layouts based on instructions from Logistic Consultant
Proactively own design optimization initiatives and suggestion optimal ASRS rack designs (based on rack vendors typical designs and required client application).
Support Sales, System Engineering & Consultants with writing specifications for building interface parts in Swisslog budget and firm bid documents.
Design and dimension rack/ASRS solutions using Swisslog tools. Specify requirements for rack vendors and others related to building interface.
Be a subject Matter Expert in building interface (relative to material handling equipment) within Consumer Goods BU.
Execute CAD drawings to show the rack configurations and ASRS solutions
Location details: Remote work is available for this position. We prefer candidates in the eastern time zone.
Qual è il tuo contributo
At Swisslog, it all starts with you. Your motivation. Your amazing talents. Your commitment. We understand that truly innovative ideas come from an inspired workforce.

We search for talented and motivated team players – people who want to enjoy an engaging work experience at one of our many locations around the world – people who wish to fully realize their potential.
La nostra promessa
Swisslog ti offre l'opportunità di sviluppo personale lavorando con noi in una mission pionieristica: cambiare il futuro dell'intralogistica, creando un'era di soluzioni robotizzate e basate sui dati che generano un eccezionale valore per il cliente. Siamo orgogliosi delle nostre radici svizzere, ma offriamo opportunità globali. Non ci aspettiamo la perfezione, ma da tutti i nostri collaboratori ci attendiamo collaborazione, impegno, chiarezza e competenza (i nostri valori fondamentali). In cambio, offriamo la possibilità di far parte della forza trainante che sta dietro a soluzioni che cambiano il futuro.
Imparare e crescere
Grande spirito di squadra
Grandi clienti di marca
Informazioni su Swisslog
Swisslog sta plasmando il #futuro dell'#Intralogistica. All'interno del gruppo KUKA, ci occupiamo delle più recenti tecnologie che stanno cambiando il mondo. Siamo un team di 2.000 esperti provenienti da 50 paesi, e tra i nostri clienti annoveriamo alcuni dei più importanti e prestigiosi marchi del mondo. Insieme, stiamo lavorando per rivoluzionare l'intralogistica in modo intelligente e con nuove prospettive. Con le nostre soluzioni flessibili di automazione #robotica e #basata sui dati, alimentiamo la catena di fornitura facendo progredire l'industria. #Entra a far parte del nostro team e dai vita alle tue idee!
We Offer
We offer you opportunities to grow and develop every day. We take pride in our rich diversity. You don't have to fit into a mold at Swisslog. We are seeking team members with: strong drive; true commitment; relentless curiosity; the desire to chart their own course; and the passion to deliver innovative solutions through by working with and leading others.