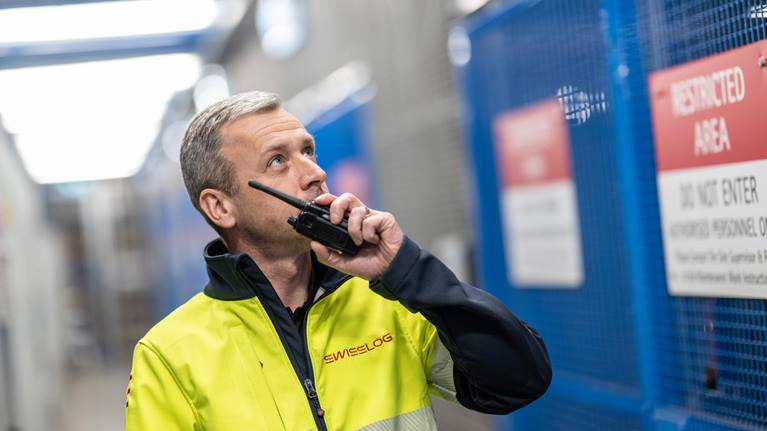 Safety Manager
5 marzo 2021
Swisslog Logistic, Inc., provider of integrated logistics solutions (Warehouse Management Systems) is looking for a dedicated and innovative Safety Manager to join the team in Newport News, VA.
A colpo d'occhio
Newport News, VA, USA

Quality, Health and Safety

Regular/ Permanent/ Full-time
Cosa puoi realizzare con noi
Provide safety leadership and work closely with the Operational Directors, Human Resources and Business Unit Directors in creating and maintaining a climate in which individuals feel safety has high value and that they are clear about responsibilities, safety aims and objectives within the business
Serve as the primary contact on safety issues and as the regional safety expert with clients, regulators, and company staff.
Serve as the primary contact on safety issues and as the regional safety expert with clients, regulators, and company staff
Create, manage, and review site-specific safety plans
Maintain the accident and 'near miss' records and prepare reports for Health and Safety Committee, using statistical and other analytical tools. Inform HR of accidents or incidents that require notification
Manage internal incidents; ensure that safety emergencies and injuries are properly addressed and documented
Ensure that a thorough accident management system is in place, to undertake risk assessment processes to identify hazards and to ensure that appropriate control measures are in place
Review and develop all aspects of Swisslog's Health and Safety Policy, and ensure that it is implemented consistently throughout the business. Establish and maintain positive working relationships with clients, Site Health and Safety Managers, Regional Managers, local representatives, and subcontractors.
Lead and direct the Safety Committee with quarterly meetings
Review all contract documents and subcontractor safety programs to ensure they are compliant with Corporate and OSHA safety regulations.
Identify required safety training needed in each department and organize if needed
Ensure that appropriate training records are renewed and maintained in compliance with legal requirements to include OSHA
Monitor, evaluate and review existing, new, and upcoming Health and Safety legislation and ensure that Swisslog has systems and procedures in place to meet legal compliance.
Provide proper training to staff and project personnel in emergency response plan procedures
Achieve the objectives given by the regional management
Occasionally it may be necessary to carry out other duties as required by the business.
Report monthly the results of audits, incidents, and other safety actions to your line manager to present in the Senior MGMT meetings monthly
Qual è il tuo contributo
Required education:
Bachelor's degree required
Required licenses or certifications:
Certified Safety Professional (CSP)
CPR/First Aid
Desirable Qualifications:
Certified OSHA Outreach Trainer
40-Hour HAZWOPER certificate
ISO 45001 or OHSAS 180001
Travel 25-50% of the year.
A minimum of 5 years' safety-related experience is preferred.
A background in automated material handling equipment and implementation is preferred.
La nostra promessa
Swisslog ti offre l'opportunità di sviluppo personale lavorando con noi in una mission pionieristica: cambiare il futuro dell'intralogistica, creando un'era di soluzioni robotizzate e basate sui dati che generano un eccezionale valore per il cliente. Siamo orgogliosi delle nostre radici svizzere, ma offriamo opportunità globali. Non ci aspettiamo la perfezione, ma da tutti i nostri collaboratori ci attendiamo collaborazione, impegno, chiarezza e competenza (i nostri valori fondamentali). In cambio, offriamo la possibilità di far parte della forza trainante che sta dietro a soluzioni che cambiano il futuro.
Cresci con noi
Imparare e crescere
Grande spirito di squadra
Informazioni su Swisslog
Swisslog sta plasmando il #futuro dell'#Intralogistica. All'interno del gruppo KUKA, ci occupiamo delle più recenti tecnologie che stanno cambiando il mondo. Siamo un team di 2.000 esperti provenienti da 50 paesi, e tra i nostri clienti annoveriamo alcuni dei più importanti e prestigiosi marchi del mondo. Insieme, stiamo lavorando per rivoluzionare l'intralogistica in modo intelligente e con nuove prospettive. Con le nostre soluzioni flessibili di automazione #robotica e #basata sui dati, alimentiamo la catena di fornitura facendo progredire l'industria. #Entra a far parte del nostro team e dai vita alle tue idee!
We Offer
Swisslog offers challenging work in a globally networked environment as well as competitive base salary, comprehensive benefits including health/dental and 401k! United efforts of our employees represent the basis for developing and delivering the best solutions for our customers.