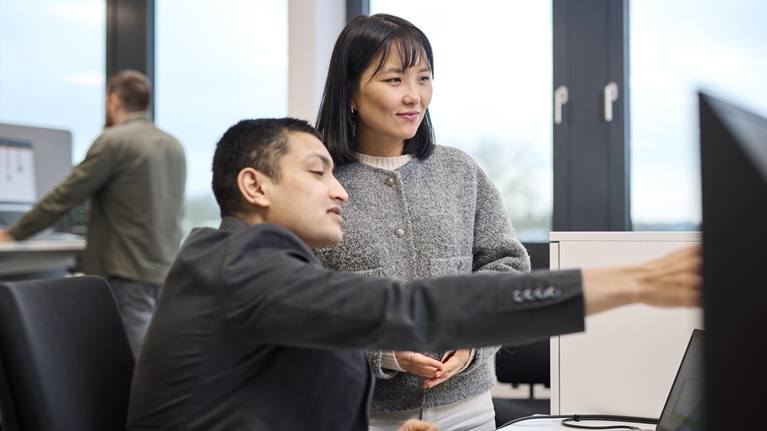 Project Engineer
Location: Mason, Ohio
6 avril 2021
En un coup d'œil
Cincinnati, OH, Etats-Unis

Engineering

Regular/ Permanent/ Full-time
Ce que vous réalisez chez nous
(-)Participate in kick off meeting for project implementation and meet with local authorities for OSHA standards, to obtain necessary information to ensure compliance.(-)
(-)Participate in the subcontractor audit and carry out WMS and subsystem components manufacturing acceptance tests. Check the subcontractor's OH&S and local standards manufacturer's declarations/compliance.(-)
(-)Produce and maintain the Execution Specification for overall plant characteristics based on the offer, contract and basic data, referring to the WMS and subsystem execution specifications.(-)
(-)Design solutions to enable a proper technical execution for the purchasing and implementation of the subsystem equipment and manufacturing(-)
(-)Control and coordinate the Design interfaces of the different subsystem components and check that they are fitting together to ensure the site assembly can take place without difficulties(-)
(-)Perform Availability Tests and carry out final acceptance with the subcontractors and customer at the end of the Warranty Period.(-)

Ce que vous apportez avec vous
Essential
(-)BS in Mechanical Engineering, Industrial Engineering or System Engineering(-)
(-)Courses in automated material handling, logistics applications(-)
(-)Computer literate in all MS Office products and AutoCAD.(-)
(-)Basic understanding of Industrial Automation and Control Systems.(-)
(-)Excellent written and verbal communication skills.(-)
(-)Analytical, problem-solving and decision-making skills.(-)
(-)Demonstrated presentation skills.(-)
(-)Demonstrated ability to review and finalise the technical details and interface of subsystem design provided by external and internal suppliers.(-)
(-)Demonstrated ability to provide "attention to detail" of a high-tech installation in a similar environment.(-)
(-)Able to take ownership of assigned project responsibilities and deliver a successful project outcome to customer expectations(-)
(-)Cost calculation of contract variation for different solution designed and offered by the Project Manager(-)
(-)Ensure that the mechanical, electrical and controls aspects of the project are carried out in a manner which is in line with applicable codes and Swisslog Standards Including Occupational Health and Safety(-)

Desired
Application knowledge of automated material handling equipment such as
(-)AS/RS – automated storage and retrieval systems(-)
(-)Pallet and case conveyors(-)
(-)Sorters(-)
(-)AGV's(-)
(-)Monorails(-)
(-)Robotics(-)
(-)Experience with 2D and 3D CAD design, drafting, modeling, and engineering software(-)
(-)Experience with mechanical and electrical installation onsite, commissioning and testing.(-)
(-)Basic understanding of Industrial Automation – specifically Control Systems for automated material handling equipment.(-)
(-)MS Project, Solid Works (or other 3D-modelling software)(-)
(-)Experience with racking applications, sprinklers and building interfaces.(-)
(-)Experience in applicable codes and regulations NEC, OSHA, ASME(-)
(-)Understanding of warehouse management software products.(-)


Notre promesse
Swisslog vous offre la possibilité d'un développement personnel en travaillant avec nous sur une mission innovante : changer l'avenir de l'intralogistique en créant une ère de solutions robotisées et basées sur les données offrant un excellent bénéfice pour le client. Nous sommes fiers de nos racines suisses, mais les possibilités que nous offrons se dispersent dans le monde entier. Nous ne nous attendons pas à la perfection, mais misons sur la collaboration, l'investissement, la clarté et la compétence (les valeurs fondamentales de notre entreprise) de nos collaborateurs. En contrepartie, nous vous offrons l'opportunité de faire partie de l'élément moteur de solutions faites pour changer l'avenir.
Apprendre et grandir
Grand esprit d'équipe
Opportunités globales
Au sujet de Swisslog
Swisslog participe à la conception de l'#avenir de l'#intralogistique. En tant que membre du groupe KUKA, nous travaillons au développement de nouvelles technologies prêtes à changer le monde. Nous formons une équipe de 2 000 experts et expertes venant de 50 pays et avons pour clients quelques uns des plus grandes et des plus excitantes marques au monde. Nous travaillons en collaboration, de façon intelligentes et avec de nouvelles perspectives pour révolutionner le domaine de l'intralogistique. Grâce à nos solutions d'automatisation flexibles #robotisées et #basées sur les données, nous faisons tourner la chaîne logistique et faisons avancer l'industrie. #Joignez notre équipe et permettez à vos idées de prendre vie !
We Offer
Swisslog offers challenging work in a globally networked environment as well as competitive base salary, comprehensive benefits including health/dental and 401k! United efforts of our employees represent the basis for developing and delivering the best solutions for our customers.