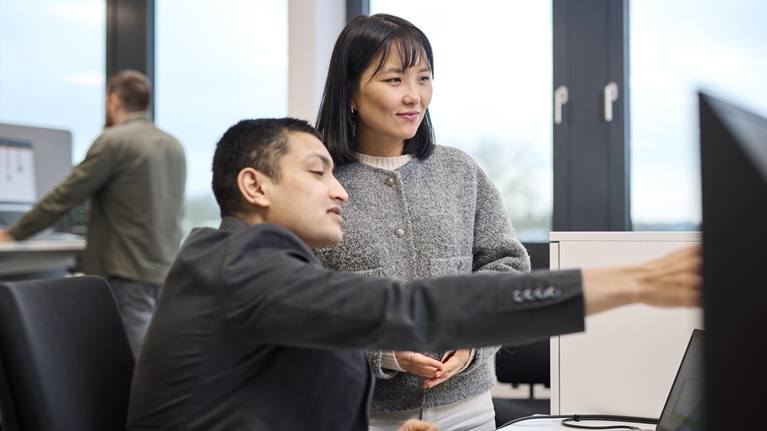 Project Engineer
Location: Mason, Ohio
6 de abril de 2021
De un vistazo
Cincinnati, OH, EUA

Engineering

Regular/ Permanent/ Full-time
Lo que harás con nosotros
(-)Participate in kick off meeting for project implementation and meet with local authorities for OSHA standards, to obtain necessary information to ensure compliance.(-)
(-)Participate in the subcontractor audit and carry out WMS and subsystem components manufacturing acceptance tests. Check the subcontractor's OH&S and local standards manufacturer's declarations/compliance.(-)
(-)Produce and maintain the Execution Specification for overall plant characteristics based on the offer, contract and basic data, referring to the WMS and subsystem execution specifications.(-)
(-)Design solutions to enable a proper technical execution for the purchasing and implementation of the subsystem equipment and manufacturing(-)
(-)Control and coordinate the Design interfaces of the different subsystem components and check that they are fitting together to ensure the site assembly can take place without difficulties(-)
(-)Perform Availability Tests and carry out final acceptance with the subcontractors and customer at the end of the Warranty Period.(-)

Lo que aportarás
Essential
(-)BS in Mechanical Engineering, Industrial Engineering or System Engineering(-)
(-)Courses in automated material handling, logistics applications(-)
(-)Computer literate in all MS Office products and AutoCAD.(-)
(-)Basic understanding of Industrial Automation and Control Systems.(-)
(-)Excellent written and verbal communication skills.(-)
(-)Analytical, problem-solving and decision-making skills.(-)
(-)Demonstrated presentation skills.(-)
(-)Demonstrated ability to review and finalise the technical details and interface of subsystem design provided by external and internal suppliers.(-)
(-)Demonstrated ability to provide "attention to detail" of a high-tech installation in a similar environment.(-)
(-)Able to take ownership of assigned project responsibilities and deliver a successful project outcome to customer expectations(-)
(-)Cost calculation of contract variation for different solution designed and offered by the Project Manager(-)
(-)Ensure that the mechanical, electrical and controls aspects of the project are carried out in a manner which is in line with applicable codes and Swisslog Standards Including Occupational Health and Safety(-)

Desired
Application knowledge of automated material handling equipment such as
(-)AS/RS – automated storage and retrieval systems(-)
(-)Pallet and case conveyors(-)
(-)Sorters(-)
(-)AGV's(-)
(-)Monorails(-)
(-)Robotics(-)
(-)Experience with 2D and 3D CAD design, drafting, modeling, and engineering software(-)
(-)Experience with mechanical and electrical installation onsite, commissioning and testing.(-)
(-)Basic understanding of Industrial Automation – specifically Control Systems for automated material handling equipment.(-)
(-)MS Project, Solid Works (or other 3D-modelling software)(-)
(-)Experience with racking applications, sprinklers and building interfaces.(-)
(-)Experience in applicable codes and regulations NEC, OSHA, ASME(-)
(-)Understanding of warehouse management software products.(-)


Nuestra promesa
Swisslog te ofrece la oportunidad de desarrollarte personalmente mientras trabajas con nosotros en una misión pionera: cambiar el futuro de la intralogística creando una era de soluciones basadas en robots y datos que ofrezcan un valor excepcional al cliente. Estamos orgullosos de nuestras raíces suizas, pero las oportunidades que ofrecemos son mundiales. No esperamos perfección, pero sí Collaboration, Commitment, Clarity y Competence (nuestros valores fundamentales) por parte de todos nuestros empleados. A cambio, te ofrecemos la oportunidad de formar parte de la fuerza motriz de soluciones que cambian el futuro.
Aprender y crecer
Gran espíritu de equipo
Oportunidades globales
Sobre Swisslog
Swisslog ha puesto de manifiesto el #futuro de la #intralogística. Como parte del grupo KUKA, trabajamos en las últimas tecnologías que están cambiando el mundo. Somos un equipo de 2000 expertos y expertas de 50 países que tienen como clientes a algunas de las marcas más grandes e interesantes del mundo. Juntos trabajamos para revolucionar la intralogística de forma inteligente y con nuevas perspectivas. Con nuestras soluciones flexibles de automatización basadas en #robots y #datos, impulsamos la cadena de suministro y hacemos avanzar la industria. ¡#sépartedenuestroequipo y haz que las ideas cobren vida!
We Offer
Swisslog offers challenging work in a globally networked environment as well as competitive base salary, comprehensive benefits including health/dental and 401k! United efforts of our employees represent the basis for developing and delivering the best solutions for our customers.