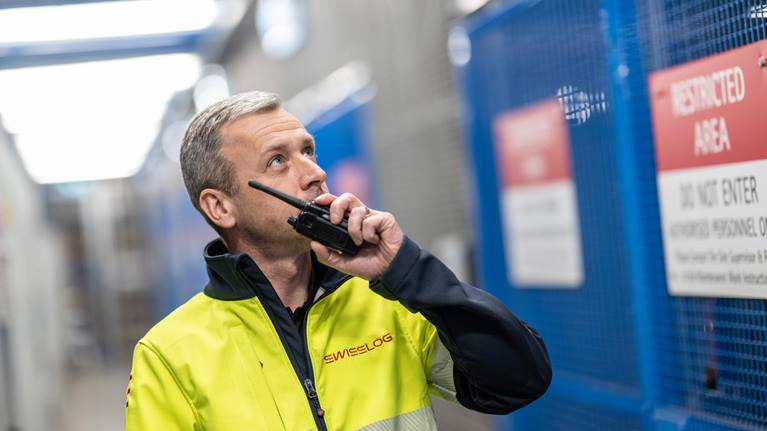 Safety Manager
den 5 mars 2021
Swisslog Logistic, Inc., provider of integrated logistics solutions (Warehouse Management Systems) is looking for a dedicated and innovative Safety Manager to join the team in Newport News, VA.
Sammanfattning
Newport News, VA, USA

Quality, Health and Safety

Regular/ Permanent/ Full-time
Dina arbetsuppgifter
Provide safety leadership and work closely with the Operational Directors, Human Resources and Business Unit Directors in creating and maintaining a climate in which individuals feel safety has high value and that they are clear about responsibilities, safety aims and objectives within the business
Serve as the primary contact on safety issues and as the regional safety expert with clients, regulators, and company staff.
Serve as the primary contact on safety issues and as the regional safety expert with clients, regulators, and company staff
Create, manage, and review site-specific safety plans
Maintain the accident and 'near miss' records and prepare reports for Health and Safety Committee, using statistical and other analytical tools. Inform HR of accidents or incidents that require notification
Manage internal incidents; ensure that safety emergencies and injuries are properly addressed and documented
Ensure that a thorough accident management system is in place, to undertake risk assessment processes to identify hazards and to ensure that appropriate control measures are in place
Review and develop all aspects of Swisslog's Health and Safety Policy, and ensure that it is implemented consistently throughout the business. Establish and maintain positive working relationships with clients, Site Health and Safety Managers, Regional Managers, local representatives, and subcontractors.
Lead and direct the Safety Committee with quarterly meetings
Review all contract documents and subcontractor safety programs to ensure they are compliant with Corporate and OSHA safety regulations.
Identify required safety training needed in each department and organize if needed
Ensure that appropriate training records are renewed and maintained in compliance with legal requirements to include OSHA
Monitor, evaluate and review existing, new, and upcoming Health and Safety legislation and ensure that Swisslog has systems and procedures in place to meet legal compliance.
Provide proper training to staff and project personnel in emergency response plan procedures
Achieve the objectives given by the regional management
Occasionally it may be necessary to carry out other duties as required by the business.
Report monthly the results of audits, incidents, and other safety actions to your line manager to present in the Senior MGMT meetings monthly
Vad du tar med dig till oss
Required education:
Bachelor's degree required
Required licenses or certifications:
Certified Safety Professional (CSP)
CPR/First Aid
Desirable Qualifications:
Certified OSHA Outreach Trainer
40-Hour HAZWOPER certificate
ISO 45001 or OHSAS 180001
Travel 25-50% of the year.
A minimum of 5 years' safety-related experience is preferred.
A background in automated material handling equipment and implementation is preferred.
Vårt löfte
Swisslog erbjuder dig möjlighet till personlig utveckling när du gemensamt med oss förverkligar vår mission: Att permanent förändra framtidens intralogistik med robotbaserade och datastödda lösningar som skapar unik kundnytta. Vi är stolta över vårt schweiziska arv, men våra produkter och tjänster efterfrågas på en global marknad. Vi förväntar oss inte perfektion, utan istället Collaboration, Commitment, Clarity och Competence (våra kärnvärden) från alla medarbetare. I gengäld erbjuder vi dig att vara med och driva på de tekniska lösningar som kommer att förändra framtiden.
Väx tillsammans med oss
Fördjupa dina kunskaper och väx
Mycket god laganda
Om Swisslog
Swisslog skapar #framtidens #intralogistik. Som en del av KUKA-gruppen utvecklar vi innovativa tekniska lösningar som kommer att förändra världen. Vårt team består av 2 000 experter från 50 länder. Till kundkretsen hör några av världens största och mest spännande varumärken. Vårt gemensamma mål är att revolutionera intralogistiken på ett smart sätt och med nya angreppssätt. Med flexibla #robotbaserade och #datastödda automationslösningar effektiviserar vi försörjningskedjan och driver på industrin. #Bli en del av vårt team och förverkliga dina idéer!
We Offer
Swisslog offers challenging work in a globally networked environment as well as competitive base salary, comprehensive benefits including health/dental and 401k! United efforts of our employees represent the basis for developing and delivering the best solutions for our customers.