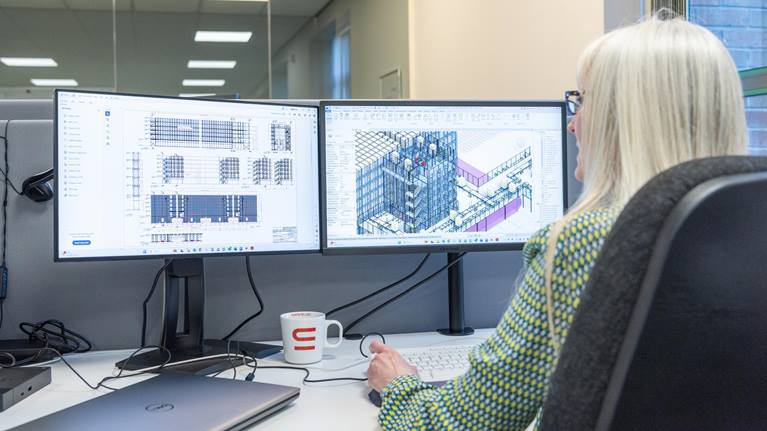 System Designer
Multiple Locations
29 januari 2021
Are you looking for an exciting new challenge – one where you can really make a difference? Are you passionate about technology and keen to share your expertise internationally? Step forward and discover Swisslog!

Working as part of our #ConsultingAndSolutionDesign team with a great team spirit, you will use the power of technology to shape the future of intralogistics for forward-thinking customers. We're offering a talented individual the opportunity to join our incredible team and get the most out of their potential – could it be you?
In een oogopslag
Newport News, VA, Verenigde Staten van Amerika

Consulting and Solution Design

Regular/ Permanent/ Full-time
Wat je bij ons bereikt
Support the sales and consulting team with knowledge related to building interface (rack designs, floor loads, HVAC, Fire Suppression, mezzanine designs, electrical power & air connection requirements
Support Logistic Consultants with technical equipment dimensioning and ASRS rack layouts based on instructions from Logistic Consultant
Proactively own design optimization initiatives and suggestion optimal ASRS rack designs (based on rack vendors typical designs and required client application).
Support Sales, System Engineering & Consultants with writing specifications for building interface parts in Swisslog budget and firm bid documents.
Design and dimension rack/ASRS solutions using Swisslog tools. Specify requirements for rack vendors and others related to building interface.
Be a subject Matter Expert in building interface (relative to material handling equipment) within Consumer Goods BU.
Execute CAD drawings to show the rack configurations and ASRS solutions
Location details: Remote work is available for this position. We prefer candidates in the eastern time zone.
Wat jij al in je bagage hebt
At Swisslog, it all starts with you. Your motivation. Your amazing talents. Your commitment. We understand that truly innovative ideas come from an inspired workforce.

We search for talented and motivated team players – people who want to enjoy an engaging work experience at one of our many locations around the world – people who wish to fully realize their potential.
Onze belofte
Swisslog biedt jou de mogelijkheid om je persoonlijk verder te ontwikkelen terwijl je met ons aan een toonaangevende missie werkt: de toekomst van de intralogistiek te veranderen in een toekomst waarin robot- en gegevensgebaseerde oplossingen optimale oplossingen voor klanten ontwikkelen. Wij zijn trots op onze Zwitserse afkomst. Maar onze mogelijkheden zijn wereldwijd. Wij verwachten geen perfectie maar vooral Collaboration, Commitment, Clarity en Competence (onze core values) van al onze medewerkers. Aan jou bieden we de kans om deel uit te maken van de drijvende kracht achter oplossingen die de toekomst veranderen.
Leren en groeien
Optimale teamspirit
Grote, bekende klanten
Over Swisslog
Swisslog creëert de #toekomst van de #Intralogistiek. Als deel van de KUKA groep werken wij aan de nieuwste technologieën die de wereld veranderen. Wij zijn een team van 2000 experts uit 50 landen met enkele van de wereldwijd grootste en spannendste merken als klant. Samen werken we er op smarte wijze en met nieuwe perspectieven aan om de intralogistiek te revolutioneren. Met onze flexibele #robotgebaseerde en #gegevensgebaseerde automatiseringsoplossingen zijn we een drijvende kracht om de supplychain en de industrie te verbeteren. #worddeelvanonsteam en breng ideeën tot leven!
We Offer
We offer you opportunities to grow and develop every day. We take pride in our rich diversity. You don't have to fit into a mold at Swisslog. We are seeking team members with: strong drive; true commitment; relentless curiosity; the desire to chart their own course; and the passion to deliver innovative solutions through by working with and leading others.