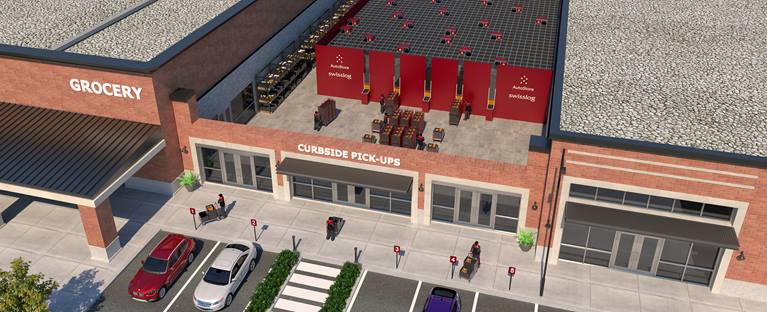 E-grocery fulfillment: Reliable, scalable automation that improves speed and efficiency
As e-grocery sales increase, grocers need a strategic approach that supports same-day home delivery and curbside pickup. The right automation technology can provide this support and deliver needed productivity and speed. With Swisslog, grocers have a range of automation solutions to choose from to fit their e-fulfillment strategy. 
Flexible, data-driven, robotic automation
Swisslog automated warehouse solutions can help move your e-grocery fulfillment beyond manual picking.
Whether it's a hub-and-spoke arrangement, a bolt-on store automation approach, micro-fulfillment centers or a fully automated grocery store, Swisslog has the expertise, as well as the automation technology and software to support your e-grocery fulfillment strategy.
Our flexible, data-driven and robotic solutions enable grocers to meet rapidly changing customer demands while allowing them to leverage new technologies as they emerge.
Your guide to e-grocery fulfillment
Swisslog wrote the book on AutoStore
---