COVID-19 Update: Recognizing our people on the front lines of critical supply chains
Special thanks to Swisslog colleagues supporting our customers during the global pandemic
The COVID-19 virus has shut down major aspects of society and forced residents in many areas to shelter-in-place. But while those who can are encouraged to stay home, critical supply chains must continue to function and Swisslog technology is a vital component in many supply chains.
Supporting our customers' supply chains
Our people are working around the clock to support our customers as they push the limits of their supply chains to provide needed medical supplies, maintain the food supply and meet the demand for other important equipment and supplies.

They are working on site in our customers' facilities running the automation systems our customers depend on, some in areas that have been hardest hit by COVID-19 virus. They are also helping our customers get new automation systems installed and operational so that food, medicine and other supplies can continue to flow.

While they are supporting our customers, they are being supported by our global technical support team and supply chain.
Maintaining our supply chain
Our manufacturing sites remain open to meet the demand for new automation systems also ensuring spare parts are available when needed.

Our technology centers also continue to support our customers and local service specialists using augmented reality and other advanced technologies. This is especially crucial with transportation in many areas severely restricted.

Globally, over 70% of our staff are engaged in mission-critical business and are working diligently through this time of crisis, to meet the demands of our customers and our communities.

We are committed to maintaining safe environments for them and are proud to have them on our team.
COVID-19 Q & A
What is the current situation at Swisslog?
At the present time, all current projects and our service operation have been impacted only minimally. No delays are currently expected in spare parts management. However, the situation
is changing rapidly and could change on a daily basis.
What are the measures Swisslog has taken?
Monitoring / analysis / assessment of the situation: In order to keep our delivery promise to our customers, we have established a task force at the highest management level to carefully monitor developments in connection with the virus. If there are any deviations, we are able to intervene quickly and initiate emergency measures.
We are in close coordination with all suppliers, including their sub-suppliers regarding the impact on the supply chain, and we are analyzing alternative and second sourcing from unaffected regions where necessary. Should the situation change and impact the supply chain, we will inform you proactively.
The health and safety of our customers and employees is priority number one. Therefore, we are reducing travel to a minimum. Customer visits or upcoming maintenance will be discussed with each customer and scheduled accordingly, taking into account legal requirements.
Will Swisslog continue to perform work on site?
Yes, Swisslog will continue to perform work on customer sites, following the defined hygiene and safety protocols established for each site and in each region of the world.
How is Swisslog managing its supply chain?
Swisslog project managers will continue to manage project schedules from our suppliers. Governmental travel restrictions, quarantines, and border restrictions may impact delivery schedules. Details will be shared with customers as needed.
What is the status of Swisslog's Customer Support Operation?
Swisslog's Global Help Desk will continue to support customers. Customers may continue to contact Global Help Desk support using phone, email, or website. Global Help Desk employees will be working from home using VPN technology and will continue to support customers.
Thank you to Pasquale Maiorano, just one of our many colleagues supporting critical supply chains during these difficult times. Based in Italy, Pasquale has been busy servicing Swisslog automation throughout the outbreak so that critical supply chains can keep running.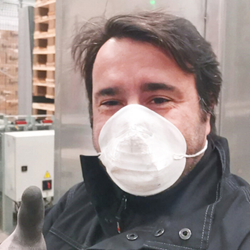 It's not a time when we can let our customers down. Our country depends on their supply chains and their supply chains depend on our technology.
Special thanks to members of the Swisslog Middle East team, Praveen, Maskur and Isai, who are continuing to support our customers in the region. Their commitment and sense of responsibility makes us all proud.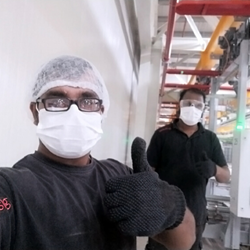 We're all in this together and we all have to do our part. For some, that means staying home. For us, it means keeping our customers' supplies chains going.
Keep your family entertained at home with our Mini Swisslogger Activity Pack.
Follow the link below to download.